Leader Standard Work Tools: Real World Examples (Part 1) | 036
Lean Leadership for Ops Managers
What leader standard work tool is the best? There's not one! The leader standard work tool you should use is the method that works for your circumstances. Kara Cuzzetto shares what made her template the best for her to build transparency and accountability. Jamie Parker shares the pros and potential pitfalls of a Kamishibai card leader standard work tool.
What You'll Learn from this Episode:
The pros and potential pitfalls of using a Kamishibai card system for leader standard work

Why Kara's team was the critical input point to develop her leader standard work

How accountability and transparency were important factors that drove Kara's leader standard work tool and template decisions

How leader standard work can help companies achieve their improvement targets while providing a stable, reasonable working environment for employees
Leader Standard Work Tools and Templates: How to Decide What to Use
There is no one right way to practice leader standard work, especially when it comes to the tool itself. 
So how do you decide what template or tactical tool to use?
The first step is to start with the problem. What problem are you trying to solve by practicing Leader Standard Work? What makes that a problem? What would success look like? What obstacles have you encountered?
The second step is to think about your specific work situation. How much time do you spend on the floor? In an office? Traveling and on your phone? What about your day's activities – how much of that are you deciding versus being decided by others? What about your personality? Do you tend to do better physically writing things down? Hearing them spoken? Seeing them with visual colors and icons?
Once you better understand the problem you're trying to solve and your specific situation, then you can explore the templates and tools that are out there. 
Back in Episode 29, Mike Wroblewski suggested that there were three elements your LSW tool or system should include
Planning

Tracking

Reflecting
As you examine the tools, think about how you might adapt them to fulfill each of these three elements.
When Would Kamishibai and Card Systems Work Well for Leader Standard Work
Kamishibai is a card system that is often used in the standard work that we have in our operations. Leaders use card systems to help them exhibit the habits and the routines so that they can consistently develop people, monitor processes, support problem solving, and improvement. Personally, I go through the process of understanding the vision of what to be created as well as the challenges to overcome. I then look to the activities that will help me achieve that.
I need to prioritize and decide which of these activities I'm going to add to my leader's standard work first, taking it a little slower. I make physical cards for those activities with green and red signs.
On each card, I write out not just the activity but also the frequency. These help me answers the following questions:
How do I know if I'm successful?

How do I want to show up in that particular activity?
In addition to physical cards, I also have a board on my wall, whether inside or outside of my office. On this board is a queue section where they start: a daily, weekly, and monthly queue. There is also a completed section and another section where I'm going to record the factors that are contributing to the outcome.
Card systems are great for shared and collaborative leadership. They also can be quite effective for leaders who spend a significant majority of their time on the floor in a specific area. In those cases, some leaders will find a card system easier, while other leaders may find a printed sheet or an app on their phones easier.
That's the gist of an LSW Kamishibai – K-Card – T-Card system.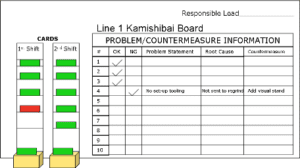 This image from Gemba Academy gives a good visual of what a card system might look like for leader standard work. You can learn more about Kamishibai at this Gemba Academy Blog Post.
Potential Pitfalls of a Kamishibai Card Leader Standard Work System
When implementing a card system for leader standard work, one potential pitfall to watch out for is the action of doing the system to leaders.
I've seen senior managers or practitioners in an organization's Lean office put together a leader standard work card system and then "roll it out" to the leaders to execute.
That is not the spirit of leader standard work and should be avoided, whether you're using a kamishibai tool or a different tool.
Kara Cuzzetto's Leader Standard Work Tool
The challenge she was facing was how to lead in alignment with the expectations she had of the team. Kara recognized that as leaders they expected team members to be accountable for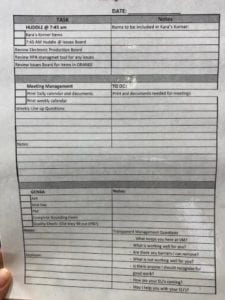 their work. And she wanted to make sure that she and other leaders were held accountable as well.
To tackle this challenge, Kara turned to leader standard work and worked in partnership with her team to build out her system.  
Kara always carried a laminated sheet on a clipboard so she could keep track of her AM and PM Gemba walk. She wanted to know where the team members were in their daily challenges. 
She used this on her clipboard as she walked around with it every day. She had checkboxes on it and wrote on it with a wipe-off pen. Kara is used to walking around with her clipboard so she could keep track of the things that were important to her and her colleagues as a leadership team.
For Kara, this leader standard work tool helped her to be present, engage with team members, and ensure she was able to give attention to all team members.
Kara sets expectations and holds her team members accountable. She wanted to show that same accountability level for the leaders, too by being transparent in how they want to show up every day as leaders.
Kara Cuzzetto's Shares the Lesson She Learned About Leader Standard Work
Kara loves humble leadership. For her, it builds a great relationship and trust. Listen to the episode to hear Kara as she shares her modest way of engaging in conflict.
Take Action:
Action #1:
Start a list of factors you want to consider when selecting, changing, or improving your own leader standard work tool.
Action #2:
Listen to episode 37 (if it's not out yet – put an appointment on your calendar for 30 minutes to listen to it on April 21st) to hear two more examples of leader standard work in the real world.
Action #3:
Remember Kara's nugget of wisdom:
"What I've learned is that I don't know everything. The people that do the work and are the closest to the work, are the ones that know. Go ask them. See what they're doing."
Mentions & Features in this Episode:
About our Guest, Kara Cuzzetto: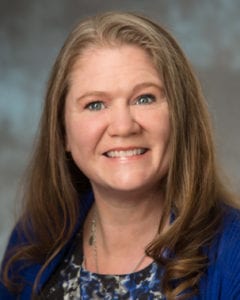 Kara is a Pacific Northwest Native, has been married for 30 years, is blessed with three beautiful children, and is expecting her first grandchild in July. She began her continuous improvement journey in 2001 while working as a Revenue Operations Manager at Virginia Mason Medical Center. In 2014 she took a job at King County in Seattle as a full-time lean practitioner to help the county expand its lean management methodology. 
Today she manages the lean program for the Finance and Business Operation Division at King County and enjoys coaching and mentoring the 170 team members across FBOD. "Anything is possible when you trust the process." Humble leadership is the key to it all.
Connect with Kara on LinkedIn