Leader Standard Work Tools and Templates: Real-World Examples (Part 02) | 037
Lean Leadership for Ops Managers
Featuring Robert G. Olinger and Steve Kane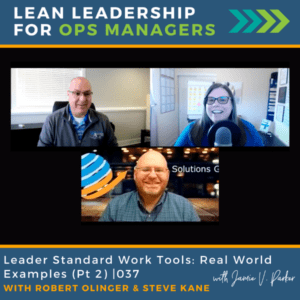 How do you choose a leader standard work template or tool based on your specific needs? Robert Olinger and Steve Kane share the challenges they were facing and how they selected the leader standard work tool to meet and address those challenges.
We've already had a few episodes that tackle this topic. Back in Episode 29, we had the opportunity to talk with Mike Wroblewski where he provided a framing that you need to think about this interesting topic we are going to discuss today.
The first part of this series started in Episode 36 where I explained about the card systems or Kamishibai while our guest Kara Cuzzetto shared the tool she made.
In today's episode, we will continue the second part of this topic with two more examples from the real world. 
What You'll Learn from this Episode:
How to use leader standard work tools and templates to build a habit of activities that you need to overcome challenges

How Robert's approach to gemba walks changed through his implementation of leader standard work

Why Steve uses a leader standard work system that isn't his preferred system, and what that means when you're selecting a template or tool for your work

How leader standard work drives discipline, creating more effectiveness
Leader Standard Work Tools and Templates: How to Decide What to Use
There is no one right way to practice leader standard work, especially when it comes to the tool itself. 
So how do you decide what template or tactical tool to use?
The first step is to start with the problem. What problem are you trying to solve by practicing Leader Standard Work? What makes that a problem? What would success look like? What obstacles have you encountered?
The second step is to think about your specific work situation. How much time do you spend on the floor? In an office? Traveling and on your phone? What about your day's activities – how much of that are you deciding versus being decided by others? What about your personality? Do you tend to do better physically writing things down? Hearing them spoken? Seeing them with visual colors and icons?
Once you better understand the problem you're trying to solve and your specific situation, then you can explore the templates and tools that are out there. 
Back in Episode 29, Mike Wroblewski suggested that there were three elements your LSW tool or system should include
Planning

Tracking

Reflecting
As you examine the tools, think about how you might adapt them to fulfill each of these three elements.
We started our Leader Standard Work Tool and Template exploration in Episode 36 where Jamie talked about Kamishibai card systems and Kara Cuzzetto shared her template and process using a laminated form. So head back there and hear additional examples.
How to Create an Initial Leader Standard Work Checklist Template
Robert G. Olinger was facing this challenge: he struggled to get the most important things done consistently.
Robert identified the most critical leadership tasks and divided them by frequency: daily, weekly, monthly. This led to his first version of a leader standard work checklist template.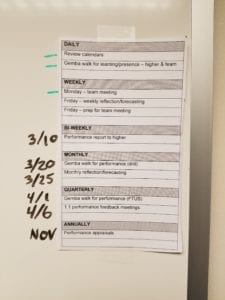 To keep those tasks visual, he placed the template on his whiteboard and then used the whiteboard area to check things off and document notes as the week went on.
In the episode, Robert explains the importance of prioritization through the proper identification of key points. Tune into the episode to hear Robert's insight about looking at your team's regular process and identifying either the transition points or tough points where involvement is important.
Finally, Robert shared how he iterated the checklist template to move beyond a compliance activity and to ensure he was showing up for the right purpose. Listen to the episode to hear how he applied this to his Gemba walks.
How to Apply Leader Standard Work in a Remote, Virtual Work Environment
Steve Kane prefers to write things out by hand because the act of writing out tasks helps him think through and process the importance, relevance, and alignment of those items.
But Steve works remotely, in an entirely virtual work environment. Steve also coaches more than 100 clients, and all of those clients have the ability to schedule time on his calendar. This means Steve's preferred method of working  . . . wouldn't work for his situation. 
To apply for leader standard work in a work from home scenario, Steve relies heavily on his calendar. In the episode, you'll hear the details of Steve's system and how he makes this work.
Steve talked about how he protects his time while still being accessible and having the bulk of his time scheduled by more than 100 clients. It sounds chaotic, but leader standard work is how he addresses the challenge in his work and keeps him deliberate with his decisions and time. Tune in to hear how leader standard work specifically helps Steve make fewer and better decisions.
Take Action:
Last episode you started building your list of factors you want to consider in selecting a leader standard work tool, template, or system for you.
Now that you've heard two more examples, revisit that list:
Has anything changed in your thought process?

Anything new you want to add?
Then, make a decision for your own leader standard work:
Given your current challenge and circumstances, what tool, template, or system will work best for you?

What action, if any, will you take?
Mentions & Features in this Episode:
About our Guest, Robert Olinger: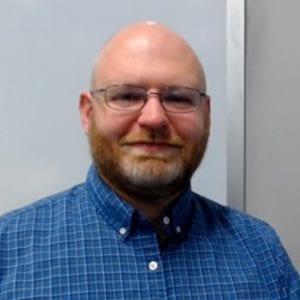 Robert launched Achieve More Group in 2017 and partnered with Creative Solutions Group in 2021 after 20 years of service in the government sector. During his career, Robert integrated processes, talent, and information flow to improve organizational performance. He worked with organizational leaders to make lasting improvements and earn local, regional, and national awards.
He is a self-proclaimed "knowledge nerd" and thrives on connecting people with information. He shares his passion for and knowledge of operations, human resources, and information management with students at universities in the Des Moines area with a focus on application and practice.
He strives to live by this paraphrase of Robert Baden-Powell, "leave it better than you found it."
Connect with Robert 
About our Guest, Steve Kane: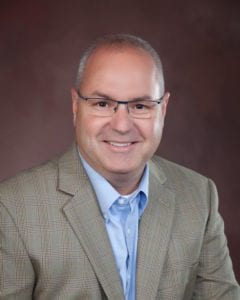 Steve Kane serves as the Director of Coaching and Certification at Gemba Academy. Before Gemba Academy, Steve had a diverse career including VP of Operations at Speciality Silicone Fabricators where he led the lean efforts of the company, serving as a plant manager where he leveraged lean methods to drive improvement and being responsible for a large medical device sales territory. 
Steve also served as Jamie V. Parker's unofficial mentor back in the 2013-2014 timeframe when she was undergoing her transformation from command-and-control to effective people-centric leadership.
Connect with Steve: