Assessing Lean Culture through Leadership Activities with Patrick Adams | 024
Lean Leadership for Ops Managers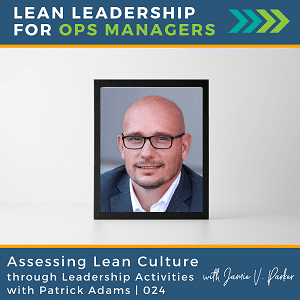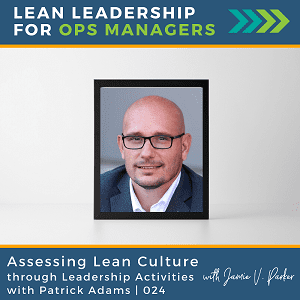 How do you assess your organizational culture? How do you know if Lean has truly moved beyond the surface level to permeate the culture? One step to peel back the onion is to explore what activities leaders do.
What You'll Learn from this Episode:
What a Continuous Appearance Trap is and why it matters

One leadership questions to assess Lean culture

How Leader Standard Work can address gaps in where you want leaders to spend their time compared to where they actually spend their time

How to learn 11 additional questions to self-assess to what extent you have an appearance or an actual improvement culture
The Lean Culture Continuous Appearance Trap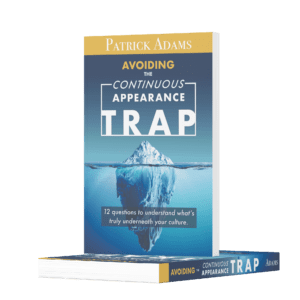 Patrick Adams, author of Avoiding the Continuous Appearance Trap shares a pivotal experience he had. In his career he worked with two organizations that had very similar surface-level artifacts of Lean. But the culture, the morale, the level of fear, the sustainability of systems – were very different. That's when he recognized that some organizations suffer from an "appearance trap" of looking like they're practicing Lean, but not really doing it.
In the episode, Patrick and I talk through his experience and how it led him to define 12 questions that organizations can ask (shared in his book) and use to assess how much they are more in the appearance zone versus the true improvement culture zone.
One Leadership Question to Assess Lean Culture
Question Two in Patrick's book is: Where are your leaders spending their time.
You see, Patrick's perspective is this:
"Where your leaders spend their time has a direct connection to the culture that the company that the company has."
We discussed why the answer to this question is so important, steps leaders can take to answer the question, and how working through this assessment question could be particularly helpful for senior and executive leaders.
When Leadership Activities Don't Match Desired Culture
It's no surprise to operations managers that they don't spend their time on the most ideal, important, aligned activities. When you answer the question, you might find that you're spending time firefighting, reacting, and doing activities that don't directly advance your goals and strategies. 
So what do you do?
Patrick and I explored the idea of using Leader Standard Work as one countermeasure to the challenge. While organizations often spend significant effort documenting standard work for production processes, leadership work is usually just limited to a generic job description.
Going through the process of prioritizing the leadership activities that drive the culture you desire – and then creating routines to execute that activities – can have a significant and sustainable impact. The key being that it's a process you go through. You don't copy Leader Standard Work from someone else. You go through the process of developing and iterating it together.
And of course it's also okay to baby-step this process, especially if you're spending more time in the reactionary space. Discipline breeds discipline. So baby steps work.
Patrick also shares a story he experienced at the Gemba with a manager and how that points out a second key focus area in this topic of where leaders spend their time, and how they can get off the firefighting hamster wheel.
More in This Podcast Episode
In the episode, Patrick and I explore these topics in more detail and stories. And Patrick shares a phrase that drives a lot of his improvement work and his challenge to each of you.
Take Action:
Your next step for this week is to answer the question; where do you, as a leader, spend your time?  You may even choose to have a peer listen to this episode as well and answer the question together. 
If you have leaders on your team, you can have them do it; where do they spend their time? Do the exercise collectively.
And as you answer that question, use it as a catalyst to really think about and discuss, where you should spend your time, because you're probably going to find a variance. 
Stay tuned for the next few weeks. We're digging into this topic further. Because I know that sometimes it feels like there just isn't enough time. That there's nothing you can say no to or delegate to spend more time on the important things? So what do you do? That's what we'll cover over the next few weeks.
Mentions & Features in this Episode:
About Our Guest, Patrick Adams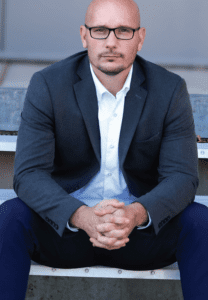 Patrick Adams is a leadership coach, consultant and speaker best known for his unique human approach to sound team-building practices, creating consensus and enabling empowerment. He founded his consulting practice in 2018 to work with leaders at all levels and organizations of all sizes to achieve higher levels of performance.
In his recently released book Avoiding the Continuous Appearance Trap, Patrick outlines 12 questions to understand what's truly underneath your culture. 
I've enjoyed getting to know Patrick the last few months through a peer-driven mastermind group we participate in together.