Getting Tasks Done When You Just Don't Feel Like It | 028
Lean Leadership for Ops Managers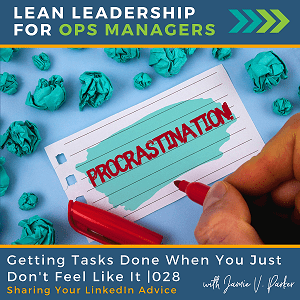 Ever wonder what kind of time management advice Lean thinkers might give? We explore one little sliver of that in this episode.
A few weeks ago, I was really struggling to get those not so favorite parts done.  I knew these were important tasks. Things that needed to get done for me to achieve my goals. I time blocked space on my calendar. 
And then stared into space. And then looked for every distraction possible. 
I basically had the professional equivalent of a Toddler Temper Tantrum in the Toy Aisle of Target.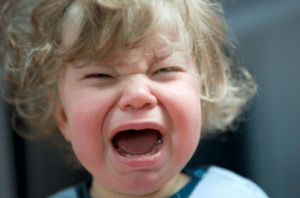 My normal techniques to muscle through weren't working. 
So I decided to crowdsource solutions. Suggestions. Ideas. I posed the question to LinkedIn and got some awesome feedback. In this episode, I'll share the collective best advice.
What You'll Learn from this Episode:
7 Types of techniques to help you follow-through on tasks you just don't feel like doing

Advice and examples from real people who use the techniques

Range of ideas from mindset to activities to helpful apps
The Self-Management Role in How Leaders Spend Their Time
Well, we're in this series exploring how we as leaders spend our time, and how the leaders on your team spend their time. In our episode 24 conversation with Patrick Adams, we learned that this is one question he recommends to help you assess your culture.
Often the answer of how we "should" spend our time and how we "actually do" spend our time don't align.
Through this series, we've talked about investigating what's happening today, steps to create more bandwidth for yourself, and applying Improvement Kata or other systematic thinking toward this problem.
Sometimes, though, you've identified an important task and you just don't feel like it. You want to do anything but. 
The problem is that if we stay stuck in procrastination and pushback – – – then it takes more time. We're hurting all those other efforts we made based on our previous podcast conversations.
These seven techniques are here to help you.
7 Techniques to Get Tasks Done – even the ones that aren't fun
Do the Worst First

Use Sprints or the Pomodoro Technique

Make it Easier and Better

Add in Rewards

Break it Down to Smaller Chunks

Give Yourself Grace and Space to Work in Alignment

Just Do It
Dig into the details of each of these in the podcast episode. You can listen to all the great advice above. Or scroll down to read or download the transcript.
Not only will each person find different techniques helpful. But the same person will likely find different techniques helpful in different situations.
Advice from Coaches, Consultants, and Lean Thinkers
Remember, I posed this question because I was in the middle of my temper tantrum. I appreciate each of these folks for sharing their ideas and lessons learned to help me . . .  and now to help you.
Head over directly to the LinkedIn post to read the full contributor comments and add your own. You may even want to connect directly with some of the contributors:
Bella Englebach – Lead Consultant at Lean for Humans, Author of the book Creatively Lean: How to Get Out of Your Own Way and Drive Innovation Throughout Your Organization, and host of The Edges of Lean Podcast.
Brian Buck – Business Coach & Consultant AND Co-Host of the People, Purpose, and Profits Business Coaching Podcast.
Chandra DeSimone – Strategic Project Manager and a volunteer with the Colorado Lean Network Summit Planning Committee
Christopher Fern – Speaker, coach, and technology advisor who helps the chronically overwhelmed change regret into trust
Dana Patterson – Passionate customer centric professional with a focus on quality systems and processes, innovative solutions and customer care
Dave Harry – The Process Whisperer – Lean Six Sigma Trainer, Toyota Kata Coach, and Certified Scrum Master who also spoke at the 2020 Colorado Lean Network Summit
Hollie Jensen – Business Transformation Designer, Strategic Advisor, and LEI faculty member (and someone I served on an executive panel with several years ago – she's so smart!).
Jaclyn Harder – LSS Operational Excellence Professional with a passion for people, and frequent contributor to the Women in Lean
Jesse DePriest – Lean Transformation Coach and Certified Process Optimizer – who also was a speaker at the 2020 Colorado Lean Network Summit
Jill James – Financial Services professional and coach who gives self-funded, first-time womxn founders a fast lane to CEO success.
Mariah Bowen – Project management consultant who helps business owners in the Texas construction industry who don't have the time or in-house resources to address every project their back-office needs
Mauricio Solano – Engineer and operational excellence professional with a focus on total flow improvements.
Moe Carrick – Consultant, speaker, and facilitator who helps leaders show up so they can make work fit for human life. Moe is also author of Bravespace Workplace and has several TEDx appearances.
Patty Caballero – Consultant who helps emerging healthcare companies grow their business with communications and public relations
Ron Pereira – Co-Founder of Gemba Academy and co-host of the Gemba Academy Podcast.  Ron joined this podcast back in Episode 12 where he shared the four foundational elements of a Lean Daily Management System.
Stephanie Hill – Consultant who helps organizations achieve greater results through alignment of People, Process, and Purpose. Stephanie also served as a guest of this podcast back in Episode 15 where she provided some awesome feedback on improving your daily meetings.
Stephanie Schwab – Marketing coach who helps service providers and business owners create marketing that works, even when they're not working.
Susan Bernstein – Speaker and coach who helps anxious achievers – especially in professional services firms – boost their influence, advancement, and impact while decreasing stress and pressure.
Take Action:
It's time to try a technique. Head back and pick one technique you want to have ready to go next time the Toddler Temper Tantrum strikes you!
Mentions & Features in this Episode: