Lean Leadership for Ops Managers
Improving Daily Meetings with Stephanie Hill and Meredith Fisher | 015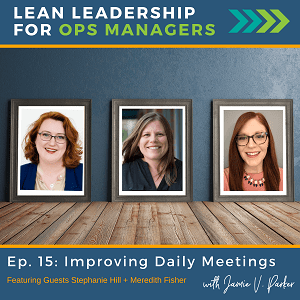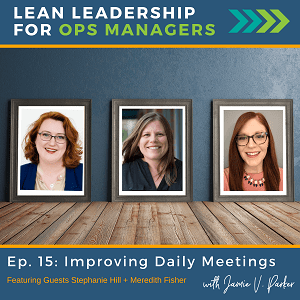 Daily meetings. Huddles. Startups. Tiered Meetings. Standups. Whatever you call them . . . today we'll talk about how to execute and improve daily meetings.
Many organizations use daily huddles as the core routine that brings them all together. 
But let's be real – building engaging, effective, daily huddles that serve the greater purpose can be challenging to achieve.
So today, we have two guests joining us to provide their perspectives and suggestions based on their real world experience.
First, Meredith Fisher will join us. She'll share some specific recommendations for those who are just getting started  . . or are maybe restarting their daily huddles. And then she'll shift to share considerations for those that have built a huddle foundation and are ready to advance in maturity.
After that, we'll dig into one of the key challenges we hear a lot about: low engagement. Stephanie Hill will share four considerations for you when you find that huddles have become an exercise of checking the boxes rather than a meaningful process.
And finally, I'll share some of my own learnings and perspectives.
To me, the best way to get huddles to (1) happen consistently and (2) to happen in an effective manner where team members get value and use them to make better decisions, build teamwork and improve the work . . . is to have them map them out and put them into practice.
You'll hear about the approach I took when leading 18 plants across the country and how that led to my current perspective: if you ask me what your huddle agenda should be and what your board should look like, my answer is – what would the team execute consistently and get value from. 
I also believe your daily meetings should evolve. Where you start is not where you stay. Allow team members to learn through the process of daily meetings and improve them as they learn. You'll hear the specific story I experienced in one of my plants that led me to be more vocal in sharing and teaching this: where you start is not where you stay.
Regardless of where you are in the process of integrating daily huddles into your culture for everyday improvement and people development . . . I hope you found a little nugget from this episode that you can bring to your team. And keep scrolling to connect with Meredith and Stephanie
What You'll Learn from this Episode:
How to lead successful daily meetings that grow your team with advice from two leaders in the field, Meredith Fisher and Stephanie Hill (and I'll give my two cents as well)
Take Action:
Your next step is to take a few minutes after listening, and jot down one thing about daily meetings that you want to take back to your team – – – not for them to do – – – but for you to discuss, together.
Be sure to connect with today's guests, Stephanie and Meredith. You can learn more about them and find those connection links below.
Mentions & Features in this Episode:
Featured Guests: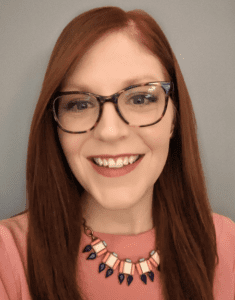 Meredith Fisher is a lean practitioner supporting healthcare operations leaders as they work together to build a more human-centered experience, for patients and caregivers alike. With a decade of experience leading organizational change and improvement in higher education, health research, and healthcare delivery, Meredith strives for an approach rooted in lean principles and powered by scientific thinking.  She has a special place in her heart for building lean daily management systems aimed at developing skill and capacity for problem solving from the frontline to the C-suite. 
Connect with Meredith Fisher: meredithkfisher.com or at  http://linkedin.com/in/meredithkfisher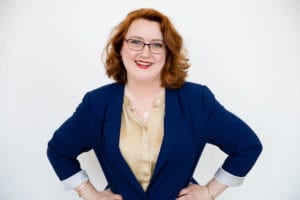 Stephanie Hill is the owner of Light Bulb Moment Consulting, which provides services for businesses that want to improve their organization's effectiveness and efficiency. Stephanie has over 20 years of experience in the manufacturing, insurance, retail, government, and health industries. Prior organizations in which she has worked include Kreg Tool, Wellmark Blue Cross Blue Shield, Maytag, and Sherwin-Williams. She has a certification in Strategic HR Leadership through Cornell University, a Master Black Belt certification in Lean Six Sigma through Maytag, a Master's degree in Public Health from Des Moines University, and a Bachelor's degree in Chemistry from Kenyon College. She lives in Des Moines, Iowa. In her spare time, Stephanie assembles LEGO sets and runs Women Who Wine.
Connect with Stephanie Hill: https://www.lbmoment.com/  or at https://www.linkedin.com/company/light-bulb-moment-consulting/