Culture Meets Profit with Matthew Nix | 034
Lean Leadership for Ops Managers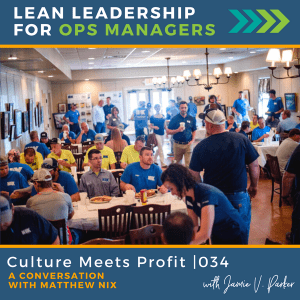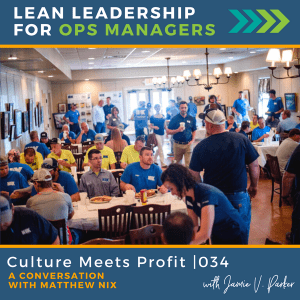 How do you develop a people-centric culture, while also sustaining your improvement efforts and growing the business? Matthew Nix shares how he successfully developed a close-knit culture among his team members while also driving significant revenue growth. You'll discover how he sees culture not just as a nice-to-have, but as a lifeline for the inevitable challenges that arise.
What You'll Learn from this Episode:
Why culture is critical and not to be taken for granted

How Matthew defined the core values for his organization, including the steps he took and the one critical question he asked

Matthew's weekly process that moves core values from another thing hanging on the wall collecting dust – to something that team members demonstrate every day

Why Nix Companies actively works on growth, sustainability, and culture – all at the same time

A specific example of how people-focused culture has been a lifeline during tough times

The role leadership development plays in building a culture
Narrowing to Your Real Core Values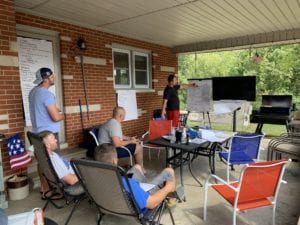 At Nix Companies, Matthew Nix and his executive team spent significant time exploring and defining their vision and core values. 
Listen to the episode to hear the steps Matthew took with his executive team as well as how he engaged team members to help define who they were and who they wanted to be as an organization.
To narrow down a lot of great ideas to their core values, Matthew asked this one critical question:
"Would we sacrifice profits to adhere to this principle?"
Organizational Core Values Should Drive Business Decisions
Would you stick to your core values even if you had to sacrifice short-term profits to do so?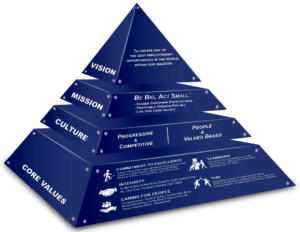 Vision and core values should drive business decisions, and for Nix Companies, they do. In the episode, Matthew shares two examples of how they've made hard business decisions by specifically going back to their core values.
Discontinuing a Line of Business

Parting Ways with a Technically-Superstar Employee
These can be tough because you know you're taking a short-term hit to the business. But if your vision and core values are meaningful, then they will help you make those decisions aligned to your true north.
As Matthew says:
"You can venture off to the left and off to the right, but you always come back to the center because that's what keeps you moving forward."
Connect Core Values to Behaviors to Build Culture
We've all seen the meaningless core values poster hanging on the wall, collecting dust. 
How do you translate core values from words on paper to how the organization really runs in the day-to-day?
Matthew's answer? Connect values to behaviors.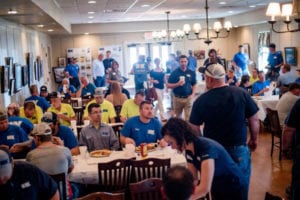 In the episode, he walks through a weekly recognition activity called "Core Values Shares" that generates peer-to-peer recognition. The key is that the recognition includes the core value and the behavior so that everyone in the organization is able to see the direct connection of what happens during the day to the organizational behavior commitments to the aspirational core value.
Matthew expands on other steps they take to bring core values to life and actually drive who they are and how they operate – in things like talent selection, onboarding, and performance management.
People-Centric Culture and Profits are NOT At Odds
At Nix Companies, they work on three things at the same time: Growth, Sustainability, and Culture.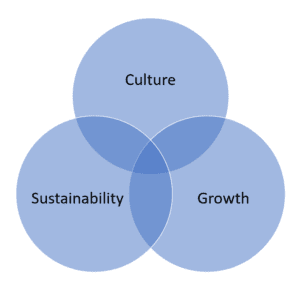 These are like the three steps of a stool. You can't just focus on one of these. 
For Matthew, Sustainability goes back to fiscal responsibility. Profit is the fuel. It's the oxygen the business needs to survive.
Culture comes back to people. Caring about people, treating them well, giving them opportunities, trusting them. 

But as Matthew puts it, great people want more. They want to be challenged, to grow, to advance, to have better health insurance, to get more education, to improve the lives of their families and communities. And that means the organization has to have Growth.
Sustainability. Culture. Growth.
Those are the three keys Matthew leads his team toward achieving.
Culture Is a Lifeline through Tough Times
Can You Spend Too Much Time on Culture? 
Matthew is transparent that sometimes he would ask himself whether he's spending too much time on the cultural side of leading an organization. But every time he questioned it, the organization would experience a challenge that made him glad he did. 
Listen to the episode to hear how Nix Companies has responded to COVID-19 and why the culture became a critical lifeline to get them through tough times.
As Matthew says about investing in people and culture:
"Be Brave. You know it's going to be valuable, you just have to put the time and energy in to do it. I don't think you'll regret that you did."
When his organization has been hit with challenges, Matthew has been really glad they've spent the time building their culture before the challenge.
Develop Leaders to Build Culture
As President and CEO, Matthew isn't able to drive culture on his own. The organization is too big. 
Leadership development is the bridge. Matthew pours into the leaders on his team so that they can pour into their teams and build the culture across the organization.
He's intentional on how he can help teach and inspire the leaders on his team to lead their areas of the business in a way that is both aligned to the vision and values and also helps to build that culture in their areas.
Take Action:
Action #1:
Put the time and effort in on culture. If you're worried about whether the time on culture is effort, remember Matthew's encouragement:
"Be Brave. You know it's going to be valuable, you just have to put the time and energy in to do it. I don't think you'll regret that you did."
Action #2:
Pick one key takeaway from this conversation. Set a timer for 10 minutes. And let your mind go – documenting what comes up for you on that topic. At the end of your 10 minutes, decide if there is some action you want to take or if it's something you want to just file for a later date.
Mentions & Features in this Episode:
About our Guest, Matthew Nix: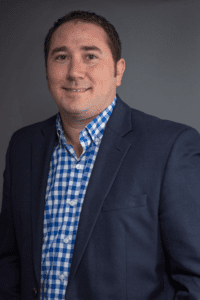 Matthew Nix currently serves as the 5th generation President and CEO of Nix Companies Inc. He started working at the family business at the age of 8, sweeping the floor and cleaning machinery for $5.00 a Saturday. Later, he began working in the shop as a summer intern learning the ropes. 
In addition to learning the technical trade aspects of the job, he credits much of the values he learned working alongside his father and grandfather. Matthew began working full-time for the company in 2004 after receiving a 1-year certification in Welding Technology from Vincennes University. Since that time, the once mom-and-pop business has grown 70 times over. In 2015 a spark for continuing education was lit within Matthew and he has become an avid reader. In 2017 he received his Executive Business Administration certificate from the University of Notre Dame.
Nix Companies has been named to the Inc 5000 fastest growing companies in America for 5 consecutive years, Posey County Business of the year, Indiana Companies to Watch, and one of the Best Places to Work in Indiana in 2018 and 2019. Matthew's autonomous management style embraces the strengths of his team to complement his visionary leadership. He is passionate about building a company known for excellence in its people and culture. He is also passionate about working with other small business leaders to help each other succeed (specifically family businesses) and adding value to the community.