Lean Leadership for Ops Managers
Respect People vs. Deliver Results | 001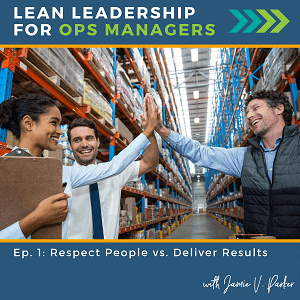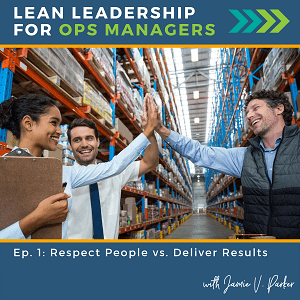 "I want to lead with Respect for People and engage the team in Continuous Improvement, but at the end of the day we've got a job to do." Have you ever found yourself thinking something like this? There is a way to empower team members AND manage & improve your operation. You don't have to choose.
Welcome to Episode 1 of Lean Leadership for Ops Managers. This podcast is designed for leaders in ops management who've had some targeted success with Lean, but haven't yet built the everybody-everywhere-everyday improvement culture they crave. In each episode, I'll bring my experience -good, bad, and ugly- as a Fortune 100 ops executive to the table. I'll  teach you how to engage your team, develop a Lean culture, deliver results, and still get your day job done.
I get it. The push to hit your numbers, get work out the door, and deliver results is real. Join me this week as I share a missed opportunity with one of my past team members as a powerful example of how that drive for results can manifest- and lead you down an ineffective path. I didn't learn the lesson then, but what I know now about the power of mindset and language was a total game changer for me, and maybe for you too. 
What You'll Learn from this Episode:
One of the overarching challenges ops leaders face, and why we need to face it
How to stop looking at things as a dichotomy and open the door to possibilities
How to think and speak about the need to respect people and deliver results
Practical examples of using an AND approach- in leadership and in life
Take Action:
Take this one step to move you toward achieving both positive people leadership and high performing results
Mentions & Features in this Episode: