Lean Leadership for Ops Managers
The Problem with Recognition | 005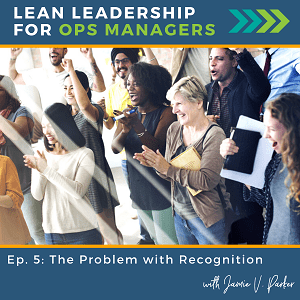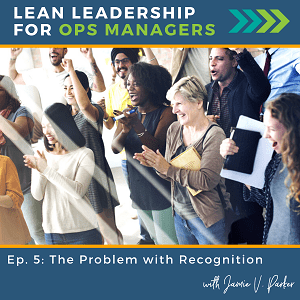 Want to know the problem with recognition? Let me paint the gap in just a couple of statistics.
Surveys show that 70% of US employees say that they would work harder with continuous recognition. Yet 82% say they aren't recognized enough for their contributions. 
There obviously is a problem with recognition.
Every team member wants to be recognized for their contributions. But have you ever stopped to think about how your "Good job, bud!" could actually be negatively affecting the team? 
In episode 5 we're building upon the Behaviors circle of the Transformation Trinity as it relates to recognition, a basic component of Respect for People.
First, we'll talk about the three mistakes you might be making right now when it comes to recognition, and what we need to do instead. As always I'll share some stories and examples along the way to help bring it home. And you'll walk away with a simple 4-part formula for recognition that will empower and lift up your team members – while also helping you deliver better results.  
Because helping team members feel committed to what we're doing is WAY easier and better than trying to compliance-them-there. 
Don't rely on pizza parties and gift cards.Reinforcing feedback is a must-have for your Lean Leadership toolbox,.
What You'll Learn from this Episode:
The problem with recognition given the typical way

Three mistakes you might be making – and what to do instead

What Reinforcing Feedback is, and why it's better than typical recognition efforts

A simple, quick 4-part formula for giving effective recognition and reinforcing feedback
Take Action:
Pay Attention.
When it comes to appreciation or recognition, start to observe WHAT you do and HOW you do it.
Mentions & Features in this Episode: