Learning from the Unexpected: Lessons From Podcasting | 023
Lean Leadership for Ops Managers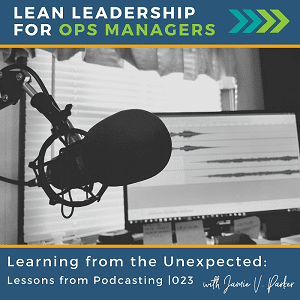 What You'll Learn from this Episode:
You know how sometimes you start something with certain expectations . . . and then you find that your biggest lessons (and your biggest wins) actually come from something different than you expected?
This podcast journey has been that way to me. Raise your hand if you can relate! In this episode I hope that hearing about my wins and gains from podcasting will help you as you're reflecting, planning, and dreaming for the new year.
This podcast – my first podcast – launched on August 26th. In the 20+ episodes since, I've conducted interviews, launched a bonus episode, created a collection of free online resources for you, the listeners. I initially started the podcast as a way to connect and create and teach and get visibility since all of my conference appearances were abruptly cancelled in 2020.
But there are three amazing lessons. Through the process of producing this podcast (say that three times fast!) for you, there are 3 important lessons that directly contributed to positive outcomes. Three Big Wins, if you will.
You can apply to your 2021 work and goals, too.
Through my podcast production, I experienced first-hand the power of these three things:
Discipline. Consistency. Routines.

Simplification

Imperfect Action.
In this episode, I walk you through how these three big wins occurred with this podcast. I also share an example of how these same principles created a win for a client. And how they may apply to your work.
Here's the thing about these big wins and big lessons. 
I know them intellectually. 
And you probably know them intellectually, too. 
There is still a tremendous amount to gain by experiencing them yourself. 
Because Sometimes, We Need To:
Be reminded of things we already know. 

Be challenged on taking things from conceptual knowledge to application in practice.

Expand things we're doing in one area to more areas.
Oh, and I also share a Bonus Win that tracks all the way back to my insecurities of not fitting in as a kid. 
That's right – I'm getting real in this one. 
Take a listen or read the transcript for all of the juicy details.
Take Action:
I gave you a few questions to reflect on through this episode. You don't have to answer them all. Just think about what resonated with you the most. And just pick one or two to reflect on and then do what? Take action on. Even imperfect action.
Extra Credit? Share this episode with a colleague. Have them answer the same question, and then discuss it together.
What is that one thing that you should give more discipline and consistency to in your work? What do you need to make a non-negotiable routine?

What is too hard in your work right now? What could you simplify in order to get more of the right things done?

Where are you stuck in planning and researching and trying to figure it all out before you take action? 

Where do you need to learn by doing?

Are you using your voice to contribute and add value? What does your answer tell you?

What muscle do you need to build?
Here's the cool thing. In episode 21 with Katie Anderson, you learned more about setting intentions to guide your leadership. Then today I gave you some food for thought and questions to help you reflect. Do that reflection within the context of the intention setting work you did before.
Mentions & Features in this Episode: