The Power of a Peer Group: Lean Communicators | Bonus April 2021
Lean Leadership for Ops Managers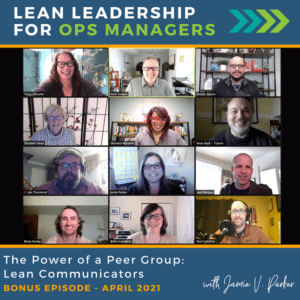 Let's be real. Leadership and management can be hard. And if you're not careful, it can become lonely, too. That's why building your squad is an activity worth investing time and energy.
What You'll Learn from this Episode:
The power of a peer group or squad to help you improve

Why sometimes you need to be open to things you don't think you need

Who the Lean Communicators are and how they've made it easier for you to tune in

Lean and Leadership related shows you might want to tune into
Why You Need a Squad
Leadership is hard. There are tough decisions. You'll get feedback you don't like. You'll be faced with situations you don't know how to handle.  That means you need a squad. It might be your formal peer team. It might be an informal group. But it should be a group that has your back. That will encourage you. That will challenge you. Your squad that's on this leadership journey with you.
Be Open to Peer Groups and Squad Members You Don't Think You Need
Have you ever had something in your life that was so amazing. . . . but that you didn't even know you needed until you had it? That's what happened to me when I was presented with an opportunity to join a new peer group that was forming (and that became Lean Communicators).
I wasn't sure if I really needed another group to join. Did I really have the time? Don't all of my other peer groups give me the support I need?
Fast forward six months, and I can't imagine being on this Podcasting journey without Lean Communicators. They're the Peer Group – the Squad – I didn't even know I needed. So as you're thinking about who's in your squad today? Who are the people that you count on? Who do you pour into?  Be open. You may not realize who and what you need . . . but someone may come knocking on your door with just the right thing at the right time. Keep an open mind.
How Lean Communicators Make It Easier for You to Learn about Lean and Leadership
At Lean Communicators, we have you in mind. We want to make it easier for folks to learn about Lean, leadership and related topics. That's why we've created two resources for you:
Lean Communicators Website –

https://leancommunicators.com/

  where you can find all of our show episodes in one place. You can even subscribe to get a brief, simple roundup email each day showing what new episodes published that day.

Lean Communicators Hashtag –

#leancommunicators

– where you can follow the hashtag on LinkedIn to see our posts, new episodes, and conversations about related topics.
 I'd like to recognize and thank Mark Graban for building and maintaining the Lean Communicators site.
Take Action:
Reflect on your answer to these questions:
Who's in your squad? How's that going for you?
If you're happy with your squad circumstances, then go say thank you. Send a note of gratitude right now. Even a quick text will work. If you're not happy with your squad circumstances right now . . . .then make a commitment to engage someone and bring them into your world. Remember to give – not just to take.
Mentions & Features in this Episode:
What Is Lean Communicators?: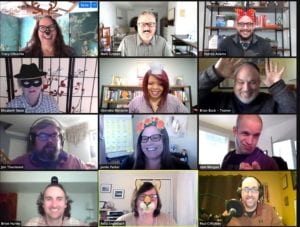 Lean Communicators is a networking and mastermind group initiated by Mark Graban in late 2020. Mark reached out to folks creating compelling content via podcasts or video on LinkedIn or YouTube.  The group meets every three weeks or so and maintains a private discussion group that is used for sharing ideas, practices, encouragement, feedback, and support. 
We're an organic peer group who intend to stay together for at least the next six months. And then after that, we'll see what comes next. You can find details on each of the Lean Communicators participants at the website.  Want to connect with the contributors on LinkedIn? Head to their profiles here: