One-on-Ones That Don't Suck | 033
Lean Leadership for Ops Managers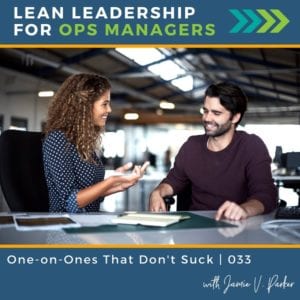 Are you a fan of one-on-ones? Most managers aren't. But that's because most managers haven't had great one-on-ones modeled for them. If you want to lead through relationships, then valuable one-on-ones are a key activity to master.
What You'll Learn from this Episode:
Why doing one-on-ones is one of the most critical leadership routines for managers

What managers get wrong with one-on-ones

Answers to the most common questions about one-on-ones

Important elements that make up an effective one-on-one

The foundation of an effective one-on-one agenda
Why Leaders Should Do One-on-Ones with their Teams
Business is personal. And leadership is a relationship.
In Episode 31, Dorsey Sherman reminded us that relationships lead to results. The two biggest drivers of employee engagement are both grounded in the relationships leaders have with members of their team.
Meanwhile, two big responsibilities of leaders are to develop other leaders and achieve performance goals.
In the episode, you'll hear about a COO who became a one-on-one believer after thirty years of managing without them. 
Why?
Because one-on-ones are a direct route to:
Build Relationships

Support Performance and Improvement

Develop People
What Are Manager One-on-Ones?
One of the most frequent responses that managers give about why they don't do one-on-ones is, "I talk to them all the time. I go by their desk all the time. We're in meetings every day. We talk in the hallways." 
Those are not one-on-ones. Those are drive-by's. So, what exactly are one-on-ones?
One-on-ones are private. If you can, use a private office or conference room with fewer distractions or people interrupting. If a private room isn't available, find a quiet corner. The goal is to create a safe environment for conversations.
They should be scheduled and consistent. Both the manager and the member of the team should know about the one-on-one in advance, and they have to be held routinely.
Very rarely are one-on-ones cancelled. Cancellation is a last resort, and only when rescheduling isn't possible. Last-minute meetings are not as effective, and team members typically do not get the same benefits and outcomes as they would with those scheduled in advance.
They have a loose agenda. You don't want it to be too strict and rigid, but you do want to have some expectations about the agenda.
Team members should have some understanding about what to bring to the table, and leaders should be prepared to give feedback and listen.
And one key point to remember:  The one-on-one isn't for the leader's benefit (though you will get benefits from them!). One-on-Ones exist to help the team member. 
One-on-One Mistakes that Make Them Something to Dread Rather than Value Add
One-on-ones can be one of the most valuable activities you do as a leader. But when I talk with managers about their activities, I hear things that are not going to lead to effective, valuable experiences.
In the episode, you'll hear details about these common mistakes:
Drive-By's

Off the Cuff

Occasional

When Time Permits

For the Manager

Project Management Task Meeting

Information Dumps
When leaders make these mistakes, they fail to get the value of relationships, performance, improvement, and development that result from effective one-on-ones.
One-on-One Logistics: How Frequent and How Long
When talking with managers about one-on-ones, the logistics questions often hang folks up:  "How frequent? How long?"
The short answer: It depends.
The key is to find the frequency and duration that enables connection, relationships, and development. 
I recommend every week or every two weeks in most cases. Sometimes it makes sense to do them monthly. As for duration, somewhere between 25 minutes and 85 minutes, depending on the frequency. 
Typically a 45-minute one-on-one every one or two weeks will fit in most cases. 
In the episode, you'll hear more details about how to decide what you should start with.
One caveat for Lean-practicing folks. Managers sometimes pitch their improvement activities as substitutes for one-on-ones. Things like daily coaching or kata routines. Or daily gemba walks. Or Daily startup meetings. These are all great activities. But they're complementary to one-on-ones, not replacements.
The Foundation of an Effective One-on-One
Once you commit to having one-on-ones and decide on a frequency and duration to start with, you then need to format them in a way that will enable the three primary value outcomes: Build Relationships, Support Performance and Improvement, and Develop People.
Keep in mind, though, that the agenda is a loose agenda. You need to have enough "space" for connection, problem solving, and relationship building.
In the episode, you'll hear more information on how to use each of these one-on-one foundational agenda sections:
Their Time – whatever they want to talk about

Performance and Improvement

Their Development

Next Steps (really quick)
There are definitely nuances, so tune in to the episode or read the shownotes to get better context of how to employ this agenda in your conversations.
Remember that effective one-on-ones are:
Private

Scheduled

Advanced Notice

Consistent

Rarely Canceled, Only Occasionally ReScheduled

Understand the Basics of What to Expect – a Loose Agenda

Leader Mostly Listens
Take Action:
Action #1:
If you want more podcast episodes, blog posts, or development opportunities to learn the detailed ins and outs of having effective one-on-ones, then comment below.
Action #2:
Complete a Plus / Delta on your current state of one-on-ones (whether you're having them or not!). That's right. Get out a sheet of paper or whiteboard and reflect on what's going well and what could be going better.
Mentions & Features in this Episode: