Lean Lessons from a Budgeting Tool that Changed My Life | 038
Lean Leadership for Ops Managers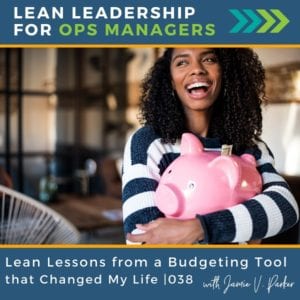 What does budgeting have to do with Lean? Learn how the best budgeting tool completely changed my life, and how the lessons learned can help you think about how your Lean systems, tools, and routines are (or aren't) changing your organization.
Back in those good old days, I wasn't spending a lot of money but I still didn't have any. Honestly, I couldn't explain where the money went. And it didn't make sense. After a virtual hunt for a digital system that will help me in managing my finances, I finally found the right one that perfectly works for me. And the system is called You Need a Budget, or YNAB for short.
Join me as I discuss the YNAB system and find out why I've been using YNAB for over six years now, and why I have no small amount of intention of stopping from using it. 
Plus, you'll hear how the lessons learned from YNAB can apply to how you're using Lean thinking and Lean tools and systems to develop your team and improve the operation.
What You'll Learn from this Episode:
The tested and proven budgeting tool that I have used for more than six years

What a Digital Envelope System is and how you can benefit from using it

How the YNAB budget system mirrors Lean thinking

Lessons learned from budgeting and how it can prompt assessment, reflection, and action along your Lean and leadership journey.
Raising Problems in Personal Finance and in Operations Management
It happened after I had gotten a promotion and moved to Denver. I bought my first house and I could say without bragging that I was making pretty good money during those times.
My boss at that time, who was very sensible and accountable for his finances, had a house full of kids. He made this comment to me that caught me off-guard, "You must be really banking away money."
I had my 401k contribution, but I wasn't banking money away. There were months where I was riding the credit card float, not able to pay my purchases off until the next payday. Though I wasn't accumulating interest, I didn't have the cash when I made the purchase.
My boss's comment was the turning point. Without even knowing it, he raised a problem for me.

This was a great thing – just like it's great when your team raises problems.
Getting Started with Improvement: Where You Start is Not Where You End
I started getting physical envelopes and writing down all my categories. After I got paid, I would go to the bank to get cash and put it in there.
So when I go shopping for something, I would bring cash with me and record the amount on the index card once I got home. By doing this way, I was more aware of where I was overspending.
But the system is kind of complicated. I just couldn't keep up with carrying cash around, saving all receipts, and remembering how much went to what.
The budgeting envelope system was where I started and taught me lessons, but then I needed to iterate.
So I started a virtual scavenger hunt for a solution that would better fit my circumstances…
Iterating Improvement from a Physical Envelope System to the Best Budget Tool
Then I found it. Here's what happened in a matter of months:
I paid off the remaining $10,000 dollars of my student loans

I learned quickly where I was overspending

I started funding my monthly expenses a month in advance

I upped my 401k contributions to 12%
What was it? A budgeting app called You Need a Budget (YNAB). 
YNAB Budgeting Tool Lessons Applied to Lean
Align with Vision and Values
The foundational value of YNAB is that it makes it easier for you to align actions with your vision and values by using a zero-based budgeting system where you only budget the money you have. Sometimes we say we have a certain financial goal, but the way we spend money doesn't seem to align with that goal. YNAB gives you a system to fix this.
Think about alignment at work. How often does what we say not match what we do? We say that we have certain goals, but then when we look at how people spend their time, it doesn't match our priorities.
Learn through Visual Controls

If you practice Lean in any form, you probably already have an appreciation for visual controls. YNAB is a system to learn and manage through visual controls. It specifically allows you to see your Expected (budget), your Actual (spent), and the Variance (over/under). This is why it is so much more impactful than a budget spreadsheet where you have your budget, but other than knowing that overall you overspent, you don't really know what went wrong.
The best visual controls in our operations show us the same thing: Expected, Actual, and Variance (or gap). This allows us to learn, which is the foundation for continuous improvement. How do your visual controls enable learning?
Use Data and Learnings to Make Better Decisions and Change Behavior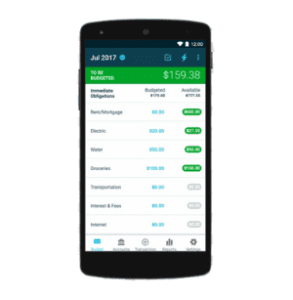 Visual controls don't just allow us to learn, but they allow us to make better decisions and change behavior. In YNAB, I can use the mobile app when I'm making a purchase to check my category balance and make a decision about the purchase. It's not coming from a place of scarcity, but from a place of alignment with the priorities I set. That leads to behavior change.
What about your Lean systems and your leadership interactions – like visual management, daily tiered meeting, and Gemba walks? How effective are they at helping people make better decisions and change behavior?
Take Action:
What's your next step? Listen to the episode. Then reflection on this list of topics:
In fact, that's your next step. I want you to reflect on the list of things I'm about to give you and ask yourself how well these things show up in how you're leading your team:
Aligning priorities with values

Visual management for a purpose (not just because)

Learning through visual Expected, Actual, and Variances

Planning, data, and learning that impacts decision making

Setting a Vision, establishing smaller Goals, then iterating and adjusting and problem-solving your way there

Flexibility to meet changing needs and to respond quickly.

Support through community and togetherness. 
Answer for yourself: How well do these show up in how you're leading your team?
Mentions & Features in this Episode:
* This is a YNAB affiliate link, which means that if you sign up and continue after your free trial, then I get one month credit to my YNAB subscription.