The Re-Gift They'll Love: Free Lean Leadership Resources to Share | 020
Lean Leadership for Ops Managers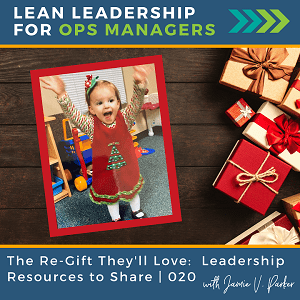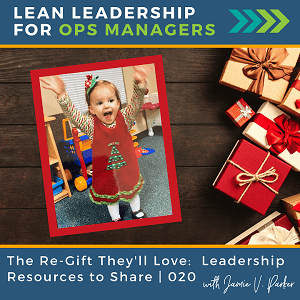 Are you in the spirit of giving? How about sharing Lean Leadership Resources with others in your network? They're free. They're easily accessible in one place. And they're on a page that will continue to grow with new resources in 2021.
It's my gift to you. And a Re-Gift that they'll love.
Who do you plan to share it with?
Where Does Your Generosity Come From?
"Where does your generosity come from?" – it's a question I was asked recently. In this episode, I share who in my life I think is the original source of building generosity and thoughtfulness into my personality.
Without diving into the origins or religious associations of the various winter holidays, there is a general sense of giving in the air during this time of year. 
So today I have a gift for you.
A Compilation of Lean Leadership Resources
A few weeks ago, someone in my community reached out to me. He had listened to podcast episodes. He watched the video series on the For Executives page of my website. 
And he wanted more. "Are there any other videos I could watch," he asked me.
That request sparked the compilation of my gift to you this holiday season.
I've pulled together several Lean Leadership Resources into one page. There are webinar replays, guest podcast discussions, and more. All on one page – that I will add to in 2021.
Here's just a sampling of what you'll find:
Giving Recognition to Spark Improvement

Transition from DOING Problem Solving to COACHING Problem Solving

The Question that Changed Everything for Me as a Leader

The Role of Ops Leaders in Integrating Lean

How to Coach Leaders to Coach Others

And more . . .
It's my gift to you: www.ProcessPlusResults.com/free
The Re-Gift They'll Love
And, with generosity and the sense of giving in the air, it's a perfect time for you to Re-Gift it, too! 
Just give the signup link to anyone you think would benefit from these Lean Leadership Resources: www.ProcessPlusResults.com/free
What You'll Learn from this Episode:
How my collection of training and resources can help you on your journey toward practicing lean and where my thoughtfulness comes from (spoilers: it's my Mom) — I'm sharing this all with you to inspire you to find gratitude and reflection as we head into a new year.
Take Action:
What's your next step? Well, three things:
Go to

www.ProcessPlusResults.com/free

and sign up to get an email with free access

Schedule time on your calendar to engage in the free lean leadership training

Tell others about it. Share the link:

www.ProcessPlusResults.com/free

so they can get access too . . . . this is your opportunity to pay it forward and embrace this season of giving. Think about who in your network might find it helpful. And give them this gift of free lean leadership training . . . Just send them to www.ProcessPlusResults.com/free
And finally, thank you. Thank you for tuning in. Thank you for supporting me. Thank you for sharing this podcast with others, and I'll see you in the New Year!
Mentions & Features in this Episode: