Leader Standard Work Gone Wrong | 030
Lean Leadership for Ops Managers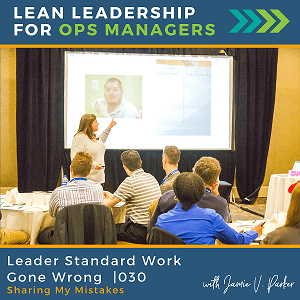 We were really proud of the leader standard work "program" we collectively built. And then . . . it completely flopped.
Hear this real-life practical example of how NOT to implement leader standard work. The best part is, the mistakes I'm sharing today were made by yours truly.
If you haven't listened to Episode 29 with Mike Wroblewski yet, be sure to check it out. It will give you the lens to better understand the missteps I took.
What You'll Learn from this Episode:
What happened the first time I tried to lead my operations management team through leader standard work

Key mishaps that went wrong along the way

How you can learn from my mistakes as you integrate & improve your leader standard work

Key next steps to take in your own practice
Learning from My Leader Standard Work Mistakes
We all read the book . . . David Mann's Creating a Lean Culture. We had some visual management in place. We were executing daily meetings each shift. We hadn't developed tiered meetings yet, but plant management attended all of the daily meetings directly. 
"Well, leader standard work is next" we thought.
And if you heard last week's episode with Mike Wroblewski, you know that means we started off at the very beginning with the wrong framing. And that was just the start of it. More missteps and mistakes kept happening. Except we didn't know it.
We were really proud of the leader standard work "program" we collectively built. And then . . . it completely flopped.
As you listen to the story, remember the key takeaways from Episode 029 with Mike Wroblewski and see if you can identify mistakes made and how it could be done better instead:
LSW is actually the Activities (not the tool)

The tool is meant to help you build a habit

The habit should be helping you solve a problem

Get started with yourself (not the leaders on your team)

Start with one thing

When you use the tool – make sure it has a method for planning, tracking & reflecting

Get a Coach or guide

Don't try to build a LSW System yet. Instead use it as a process to build habits, skills, & knowledge as you improve and solve problems
Take Action:
If you decide that you have a problem in your work that would be helped through leader standard work  (whether starting or improving your own) then I want you to start with YOUR work. Think about what the problem is in your own process. 
Why does that problem matter? 

What is at risk if you don't solve that problem? 

Why do you think that LSW would help you improve?
If you were thinking about doing LSW as a PROGRAM for your managers, hit the pause button.
Go back and listen to last week's episode again. 

Talk it out with a colleague. 

What do you think is your best next step?
Mentions & Features in this Episode: