Intentional Leadership with Katie Anderson | 021
Lean Leadership for Ops Managers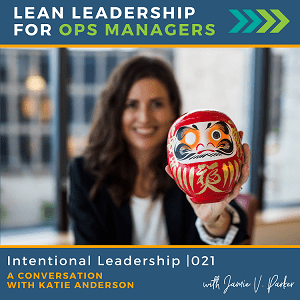 What You'll Learn from this Episode:
We throw around the phrase "set intention" quite a bit, but what does that really mean? How is intention different from goals? And how can we use both intention and goals together?
We'll tackle these questions in this conversation with my friend Katie Anderson, author of Learning to Lead, Leading to Learn.
The Difference Between Intention and Goals
We tend to use the terms intention and goals interchangeably. And while they're connected, there are subtle differences.
When Katie lived in Japan, she learned that the Kanji script for the word intention is made up of two characters meaning heart and direction. This helped Katie to process the power of the word intention.
Intention comes from the heart and describes who we want to be. It's how we want to show up in the world. Goals come from the head and are more focused on the external. It's the outcome we want to achieve.
Goals can help us realize our intention. Intention provides the true north that guides our goal setting.
Katie and I dig into the nuances of this in our discussion. Be sure to listen for all the goods.
Setting Intention at Different Levels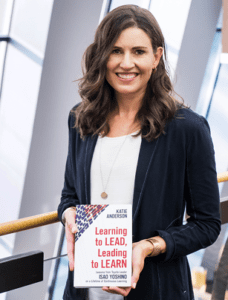 While intention comes from the heart and describes who we want to be and how we want to show up, it doesn't always have to be our grand identity.
One of my coaches has set an intention for herself that she is "a woman who takes exceptional care of herself." And this is one of her life intentions that guides her goals and decisions. Katie describes this as a meta-level intention.
But we can also set micro-level intentions for who we want to be in this moment. How we want to show up in this interaction we're about to have. This relates to the Five Leadership Interactions I talk about in Episode 14 of the podcast – where you can decide how you want to show up for specific interactions. Who you want to be in that moment. 
Intentional leadership happens at both the meta-level and the micro-level – and everything in between. Listen to the full episode to hear my Ah-Ha about this happen in real time.
Practicing Intentional Leadership
Let's get real. Talking about intentional leadership as a concept is one thing. Setting intention and setting goals is one thing. But following through on that intention. Staying grounded in intention. Using intention to make decisions. That's a whole next level that can be difficult.
So how do we do it?
Katie shares a few recommendations.
First, taking an Intention Pause – a 15-20 second pause before a meeting or interaction that allows you to re-anchor to your intention and what would align with that intention.
Second, connecting intention to achievable goals and subsets of behaviors can also help you shift behaviors – almost like mini-PDCA cycles.
Third, conducting a reflection at the end of the day allows you to assess and learn.
Listen to the podcast for the additional context Katie and I discuss around moving from concept to practice.
More in the Episode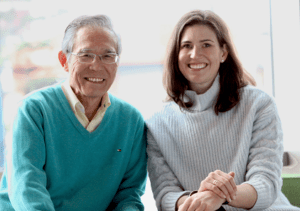 In the episode, we have more great conversation, Katie shares stories about intention from her own experiences and from Isao Yoshino, and you hear her closing words of encouragement and recommendations.
Take Action:
Reflect on one thing you want to set an intention for. It may be your big overarching intention – like my coach who says "I'm a woman who takes exceptional care of herself".
Or it may be picking one area and setting an intention around that. For example, if you've noticed that you spend more time on the Telling side of the Leadership Interactions continuum and you want to be the type of leader who spends more time asking and listening than telling . . .then define that and set an intention there.

It's up to you. But reflect and pick your one thing.
If you want to go further, download the Daily Reflection Template  Katie's offering to develop the habit of reflection and accelerate your learning and personal improvement.. The link is: https://kbjanderson.com/ops/
Mentions & Features in this Episode:
About Our Guest, Katie Anderson: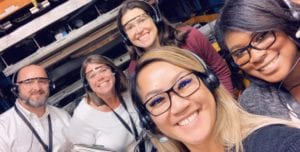 I'm grateful that a few years ago mine and Katie's paths crossed out at a client visit and a Gemba Academy workshop in California. Pretty quickly that first day meeting we really clicked and connected on different areas with our backgrounds, learnings, and values.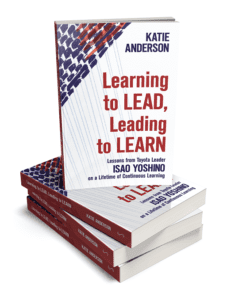 Katie Anderson is an internationally recognized leadership coach, consultant, and professional speaker, best known for inspiring individuals and organizations to lead with intention. Katie is passionate about helping people around the world learn to lead and lead to learn by connecting purpose, process, and practice to achieve higher levels of performance. Her first non-fiction book Learning to Lead, Leading to Learn: Lessons from Toyota Leader Isao Yoshino on a Lifetime of Continuous Learning debuted in July 2020 as an international Amazon #1 new release.