Give Your Leaders "More" Time | 027
Lean Leadership for Ops Managers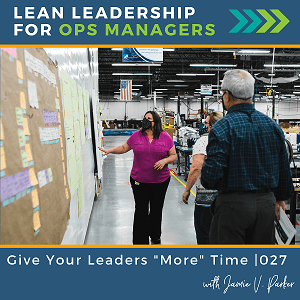 It's common for leaders to not have enough time for it all. Which means leaders have to make choices every day in how they will spend their time. How does the leader's manager impact how effectively and how aligned those choices are made?
What You'll Learn from this Episode:
How leaders of leaders impact prioritization across their team

Examples when senior leaders were making it harder for leaders to get more of the right things done

Three specific areas you should self-assess to better understand how your decisions, words, and actions impact other leaders' use of time
The Leadership Problem: I Don't Have Enough Time
This problem, "I don't have enough time for the important things," it's a pervasive problem. I see it pretty much everywhere I go. 
It's not unusual for the COO or VP to even say to me, "All right, hey, the managers are doing the wrong things. They're spending too much time firefighting. They're spending too much time in the weeds. They're spending too much time in their office or at their desk. I need them out on the floor, helping their teams get better." 
And managers usually say something about the supervisors or leads on their teams too.
When those team leads or supervisors or department leads map out how they're spending their time, and then we start digging into why – the Senior Leaders are sometimes shocked.
Because they learn that some of those "poor decisions" – aren't so much poor decisions as they are symptoms of the system the senior leader has built.
3 Ways Senior Leaders Make It Harder for Their Teams
If you're responsible for other leaders, you need to look at your role in the "not enough time" problem. Here are three specific areas to examine:
Consequences

Decision Ownership

Respect
Consequences
What are the consequences when managers don't do something – or do it late? And specifically – do those consequences match your priorities?
Decision Ownership
Where does decision ownership REALLY lie. What impact is created in how you respond to decisions you think could be better?
Respect
Do leaders reschedule time with their team to accommodate you as an Executive or Senior Leader all the time? Do leaders hesitate to schedule proactively? Why? What factors contribute to this?
These all come back to you. As a senior leader and executive. What do you choose to prioritize? How does that show up in your decisions? In your words? In your Actions?
While the bulk of this series is focused on your own work and your own time and your own decisions.
If you are a leader of leaders, you also need to look at this from the angle of how your decisions, your words, and your actions impact other leaders.
Hear More in the Episode – Give Your Leaders "More" Time
In the episode, you'll hear examples of each of these three key areas so you can better assess how you're impacting the problem and how you might be able to improve – so that you make work easier and better for the leaders on your team.
Take Action:
Examine yourself in the three areas of Consequences, Decision Ownership, and Respect. 
Then, ask your leaders for their perspectives. Ask them for their struggles. Ask them where there seems to be a misalignment between what we say is important versus our actions. 
Reflect on what you learn and decide what you want to do differently.
Mentions & Features in this Episode: