Getting and Making Real Commitments: Reliable Promising with Susan Reinhardt | 040
Lean Leadership for Ops Managers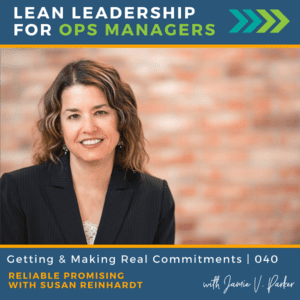 Have you ever been in a meeting and thought that everyone was on the same page for action steps, but you go into the next week's meeting and the tasks still aren't done.
Susan Reinhardt joins us to discuss how the concepts of Reliable Promising or Conversation for Action that she uses in Lean Construction may help you. 
In fact, you might hear some Weasel Words in today's conversation that are haunting your collaborative efforts.
What You'll Learn from this Episode:
How to shift your language to get commitments that are more likely to be followed through on

What Wesel Words are and how they can derail execution

The idea behind the reliable promising loop

Why it's important, as a leader, to create an environment where someone can say no if you want to get real commitments
The Problem When Stuff Gets Said, but Doesn't Get Done
Have you ever been in a meeting and the boss or a colleague asked you to do something where they kind of assume it? It's actually more of telling you to do it instead of asking. In your head, you're thinking there's no way you can get that done in time without sacrificing some other big priority. But you just kind of nod or don't say anything.
Or maybe you're in a meeting and you think that everyone agreed on who was doing what by when. But the next week stuff's not done. Or there's confusion. Or you learn that not everyone was on the same page?
The Reliable Promising Loop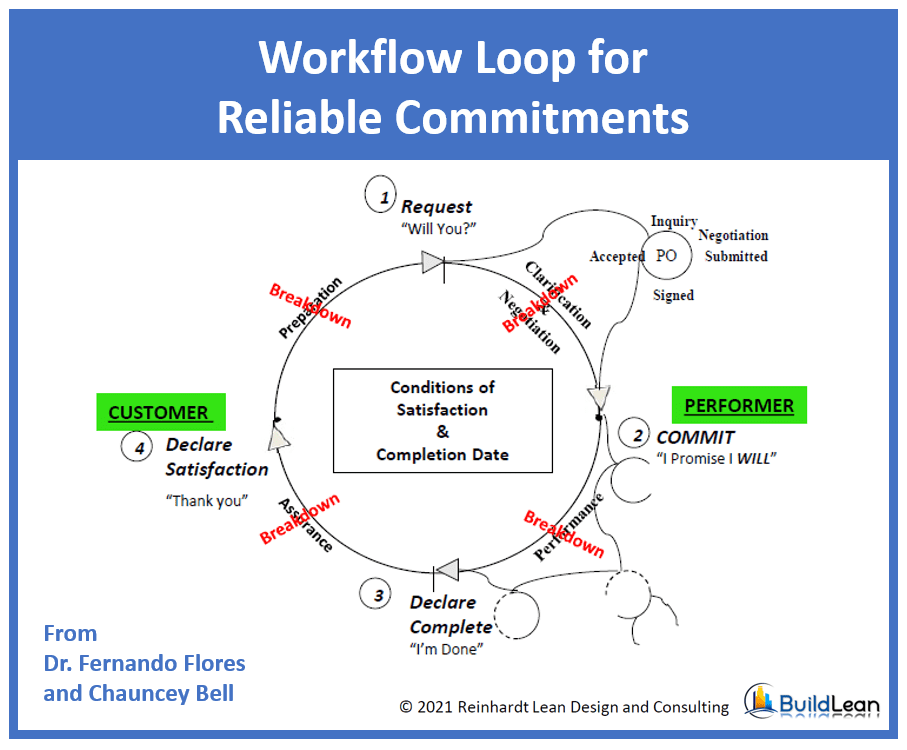 Dr. Fernando Flores and Chauncey Bell are credited with defining the Reliable Promising Loop. The loop maps the communication workflow from Request to Commit to Declare Complete to Declare Satisfaction.

Throughout the various points along the loop are opportunities for language to either create stronger alignment and reliable commitments or to result in more confusion failure points.
How Weasel Words Inhibit Collaborative Efforts
Although weasel words suggest a positive meaning, they are not making any guarantee or commitment. If you listen closely, they sound wishy-washy, lacking the desired strength and resolve of a commitment.

Weasel Words are things like: 
Maybe

Hopefully

I'll Try

I Plan To
Despite the phrase "Weasel Words", these words don't show negative intent or character on the person using them. But using these words is not the same as making a promise or a commitment.
And I'm sure that's similar to your problem of "I don't have enough time." There are so many possible things you could tackle.
What Commitments Sound Like in Reliable Promising
Reliable Promising teaches us that language is used for action, and that when making a commitment, we want to be deliberate in our words. 
Instead of using Weasel Words, we want to make Reliable Promises.
Commitment and Promise Language are things like:
I will.

Yes, I will complete the job by Friday if I get the specs by Tuesday.

I can't get the job completed by Friday, but I will get it done by Monday.
Tune in to the episode to hear Susan talk through different examples.
Take a look at the example statements Susan gave us. Can you identify the differences between wishy-washy weasel words compared to real commitments?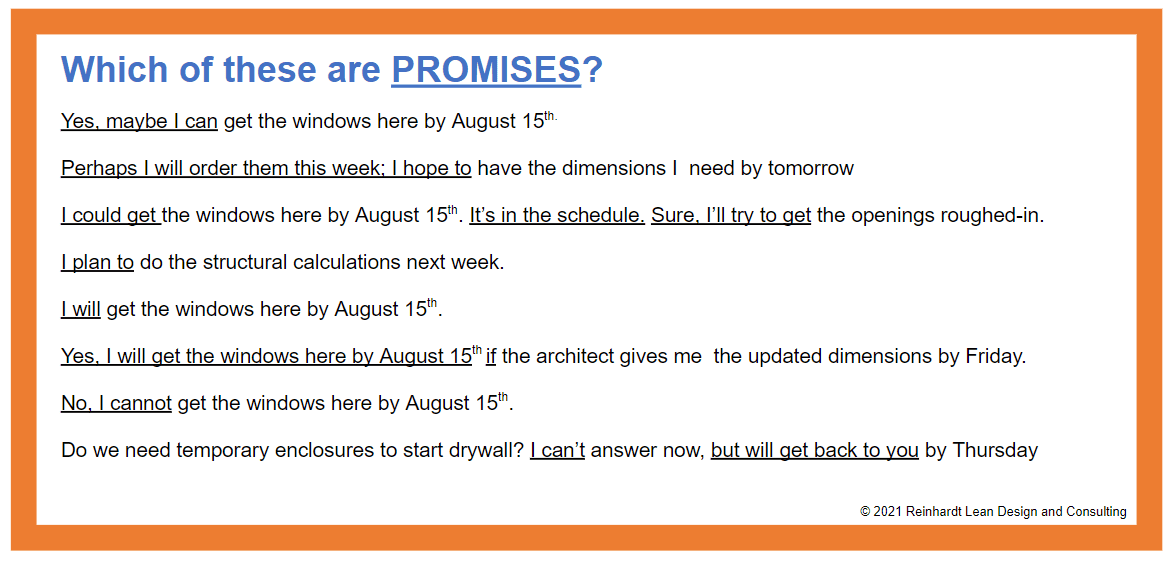 Creating an Environment for Real Commitments and Reliable Promising
Psychological safety is critical for a productive work environment. And that holds true when it comes to making and getting commitments, too.
Susan called out that the language for action in reliable promising only works if it's safe for the team member to say no.
A Real-Life Example of Weasel Words in the Podcast Episode
Tune in to the podcast to hear Jamie's real life lesson of how she used weasel words with Susan right after the podcast ended. 
Jamie's key takeaway in catching herself using weasel words and course correcting to making a promise was this:
By deliberately making a commitment using promise language, I really thought through what I needed to be able to hit the deadline I was giving. It wasn't a haphazard answer like it was with the weasel words. I thought through it, and felt confident in giving the answer.
Remember that Reliable Promising and using this strong action-focused language isn't just what other people should do. Start applying what you learn in this episode with yourself – just like Jamie did.
Take Action:
The next meeting you go to, listen for Weasel Words versus Promises or Commitments. Both from other people. And from yourself. 
How often are you and your colleagues hedging your bets or making statements in the gray rather than fully committing? 
Once you get a feel for what's happening, then you can come back and revisit this conversation to decide how you might shift some of your own language to be more action-oriented.
Mentions & Features in this Episode:
About our Guest, Susan Reinhardt: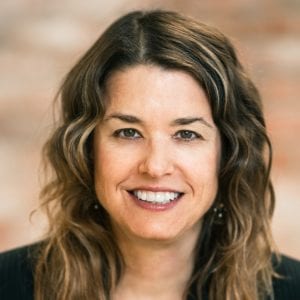 Susan Reinhardt began her career as an architect in 1991 designing schools in Switzerland. She excels at managing complex projects with multiple stakeholders and has acted as project manager for public projects ranging from a $1.5M mountain library to $30M recreation centers to a $4B university in Saudi Arabia.
Susan quickly developed a reputation for rescuing failing projects and bringing order out of chaos. She has coached facility owners, designers, and contractors on Lean methods for building projects up to $1B, including Tool Install Design in a new semiconductor fabrication plant, pharmaceutical facilities, large historical renovation projects, educational facilities, government office buildings, infrastructure projects, healthcare, and more. 
Successfully managing project teams is crucial in construction, and Susan is excited to share tips with project managers in other industries who must align and facilitate the work of multiple team members across multiple functional disciplines.