Fact-Based Leadership with Arnout Orelio | 039
Lean Leadership for Ops Managers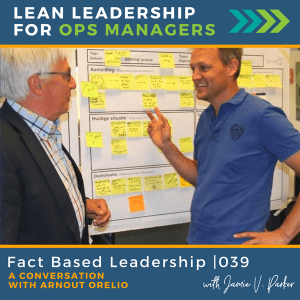 How does fact-finding and problem-solving work when folks on your team are stressed or frustrated or angry? When you and a team member see the same situation from different perspectives? When you're having performance problems that are turning into conflicts between people?
Today, Arnout Orelio joins us from the Netherlands to share how he helps emerging leaders pursue fact-based leadership.
What You'll Learn from this Episode:
How Arnout connects the dots between process problem solving and what some people call "people problems"

The second cycle running in our minds (in addition to the PDCA cycle)

Ways you can reframe opinions or emotions to agreements in order to progress problem definition and problem-solving forward

How to think about and use facts for problem-solving when people disagree on what the facts are
Facts as the Basis for Problem Solving
Systematic, scientific, or purposeful problem solving depends on the ability to identify facts. Our Lean tools and ways of thinking are designed to help us think beyond assumptions and go to gemba to observe and measure the facts.
Problems have a common denominator, and that is knowing the facts about the problem before you can come up with an effective remedy.
Differentiating Facts versus Opinions When Solving "People-Related" Problems
Some people who practice Lean get frustrated with performance or people-related "problems" because they view emotions as soft and mushy. And it seems like there are a lot of gray areas. We like black and white, dang it!
In this episode, Arnout talks about how to apply the idea of fact-based leadership when working on challenges that might fall in the gray.
Listen to the episode to hear Arnout share ways to get to the facts:
Don't make assumptions

Go to gemba to observe, and then ask what each person is observing

Engage in dialogue to understand different perspectives

Come to an agreement with the individual about the current state
Reframe Opinions to Facts in Problem Definition
The reality is that there may be feelings and opinions involved when exploring a problem. Arnout recommends reframing these as current state conditions and then seek agreement on them.
So it might sound like this:
"Let's agree that my opinion is <this> and that your opinion is <that>."
Now, the opinions have been reframed and agreed to be the current state. This moves you beyond the disagreement of opinions and progresses the conversation forward.
Tune in to hear Arnout share other examples.
Take Action:
"Leadership to me is not a position in the company. It's a process. Anybody can be a leader."
To help you develop fact-based leadership, he recommends adding two steps into your daily routine.
Decide on one issue to dig into to better understand the facts of the current state.

 At the end of the day, reflect on the question: What Did I learn?
So for your next step, ask and answer for yourself this one question:
"How might you integrate Arnout's Two recommended Steps into your daily routine?"
Mentions & Features in this Episode:
About our Guest, Arnout Orelio: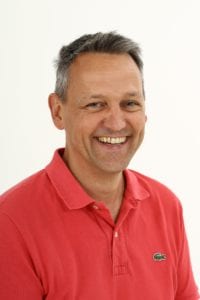 Arnout Orelio has been working with lean management since 1995, the last 15 years as a trainer, coach, and consultant in healthcare. He is the owner of The Lean Mentor where he helps people who want to (learn to) improve healthcare. Arnout focuses on teaching lean leadership, bringing top performance and high levels of productivity within everyone's reach.
Arnout is the author of Lean Thinking for Emerging Healthcare Leaders, which is specifically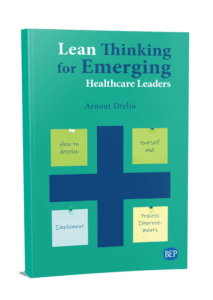 aimed at healthcare professionals with leadership responsibilities and/or ambitions. It focuses on how to apply lean principles, improve processes, and develop yourself and others.
All the tools from Arnout's books can be downloaded from his website: leanthinkinginhealthcare.com.