Engaging through One-on-Ones with Dorsey Sherman | 032
Lean Leadership for Ops Managers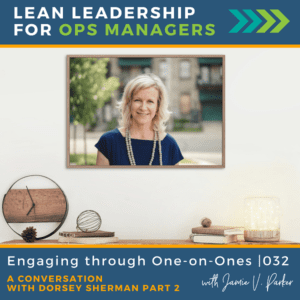 Employee engagement is an input to performance results. The relationship between a leader and employee is what drives engagement. So why do so many leaders fail to have engaging conversations? How can one-on-ones help close that gap? The engagement conversation continues with Dorsey Sherman of Modele Consulting.
What You'll Learn from this Episode:
The stats on employee engagement, and the impact managers have on engagement

How one-on-ones differ from most conversations we have in the workplace

What fears hold us back from one-on-ones, and how to reframe them
Employee Engagement Stats from Gallup
The June 2020 Gallup Employee Engagement survey results are in. 
70% of employees are either actively disengaged or not engaged

Managers account for 70% of the variation in engagement
Employee engagement isn't new stuff. People-centered leadership isn't revolutionary. But the problem still exists.
In Episode 31, Dorsey Sherman shared that an employee's direct leader has the biggest influence on the two primary drivers of engagement:
Leader Member Exchange (the leader – employee relationship)

Perceived Organizational Support (the feeling that the organization cares about me)
That is backed up by the recent Gallup data as well.
How Engaging One-on-One Coversations Differ from the Status Quo
Most interactions leaders have with team members are straight to the point on business, and typically involve a lot of telling.
Dorsey Sherman calls these transactions and says:
"We need to take away the transactional nature of that conversation, where it's all about me finding out what you're doing, so that I can report to my boss or whatever.

[Engaging One-on-One Conversations are] truly about listening and getting to know someone. And you find out all kinds of things about their family and what they're dealing with and the challenges people are facing or what's really good or happy." 
Instead of focusing the conversation on task updates, Dorsey suggests asking questions like:
How are you?

What's on your mind?

What are you trying to achieve?

Or a variation:  What do you want, and where are you now? 
These questions open up the conversation and give you a change to truly listen. And of course, check your intention to ensure you're asking those questions because you genuinely care, and not because you heard them on a podcast.
Facing the Fears of One-on-Ones
Many leaders express fears of having more meaningful and personal one-on-one questions. They wonder: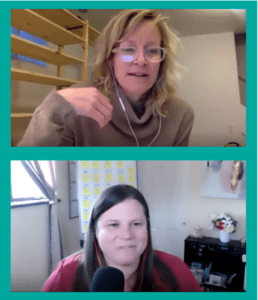 What if it gets too personal?

What if they really need a therapist instead of a leader?

What if I don't know the answer or don't know how to solve their problem?
The great news is that you don't have to give an answer or solve anyone's problems. 
Just listening with empathy is what most people need, even in the most personal and challenging of situations. Typically on those work problems that you're jumping in and solving, all they really need is for you to listen, too. Maybe ask an occasional coaching question.
The fear isn't completely unfounded. It will be uncomfortable at times. You will likely fumble over your words or not say the perfect thing. But that's okay. You'll build the relationship anyways.
Dorsey suggested we think about the risk. What's the risk of these fears coming up? What if it gets personal beyond your comfort level? Or you don't know the answer? What's at risk if that happens.
And Dorsey's question: Is that risk worth it?
Hear more directly from Dorsey by listening to the full podcast episode.
Take Action:
If you currently have consistent one on ones with members of your team, then reflect on the Plus / Deltas. 
What is going well?

What do you think could be better if?
If you don't have consistent one on ones with members of your team, then reflect on what's holding you back. 
What factors contribute to you not doing them? 

Make a list for real, make a real written down or typed out list. 
And of course, tune in for Episode 33 where I dig into more detail on how to make one-on-ones more valuable.
Mentions & Features in this Episode:
About Our Guest, Dorsey Sherman: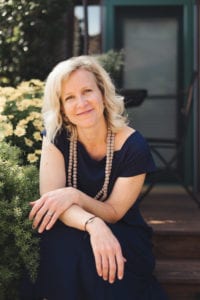 Dorsey Sherman is a leadership and continuous improvement coach with over 15 years of experience in creating positive organizational change. She partners with her clients to identify goals, understand where they are now, engage in possibilities, connect with internal motivation and commit to small experiments that yield learning and progress. Her goal is to help leaders see how much influence they actually have to create both positive change and operational excellence in their organization. She works to debunk their assumptions, negative thought patterns, self-doubt and blame. 
Prior to owning her own coaching business, Dorsey's experience has been in healthcare improvement and operations. She led projects in multiple large healthcare systems that resulted in not only bottom-line results but also increased leadership problem-solving capabilities. She has learned to apply the principles of scientific thinking – facts instead of assumptions, iterative learning, hypothesis and experimentation – to create change on an individual level. 
Connect with Dorsey at LinkedIn or at Modele Consulting