Employee Engagement with Dorsey Sherman | 031
Lean Leadership for Ops Managers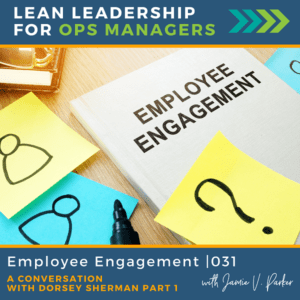 Employee Engagement. It's the thing we all want. We know it leads to better results. We know it means that we have a better work environment. But what really drives engagement? Dorsey Sherman of Modele Consulting joins us to answer that question and share how you can impact engagement across your team.
What You'll Learn from this Episode:
The biggest drivers of employee engagement

How engagement and process relate within the context of results

The problem in spending our time on the wrong side of equation

Steps to build relationships that encourage engagement

How to think about, and what to do about, folks on your team you find challenging
What Drives Employee Engagement
In her coach certification, Dorsey learned that the two biggest drivers of employee engagement are:
Leader Member Exchange

Perceived Organizational Support
Leader Member Exchange is essentially the relationship between the leader and employee and encompasses things like honesty, trust, communication, and how we treat each other.
Perceived Organizational Support is the sense the employee has that their supported by their organization – that their organization cares about them. Since an employee's direct leader is the face of the organization, the leader is the one who really influences this. 
To rephrase the statement from organization to leader, it would say:
My Leader Cares About Me
The Process of Engagement: Relationships Lead to Results
Both engagement drivers – Leader Member Exchange and Perceived Organizational Support – are grounded in the relationship between the leader and employee.
Work processes are inputs into results outcomes. But they don't operate in isolation. Running parallel to those work processes are the people processes. That means relationships and the activities that drive relationships are the process of engagement.
Melvin Smith, Ph.D. at Case Western Reserve University (where Dorsey studied for her coaching certification) illustrates this point that Relationships Lead to Results: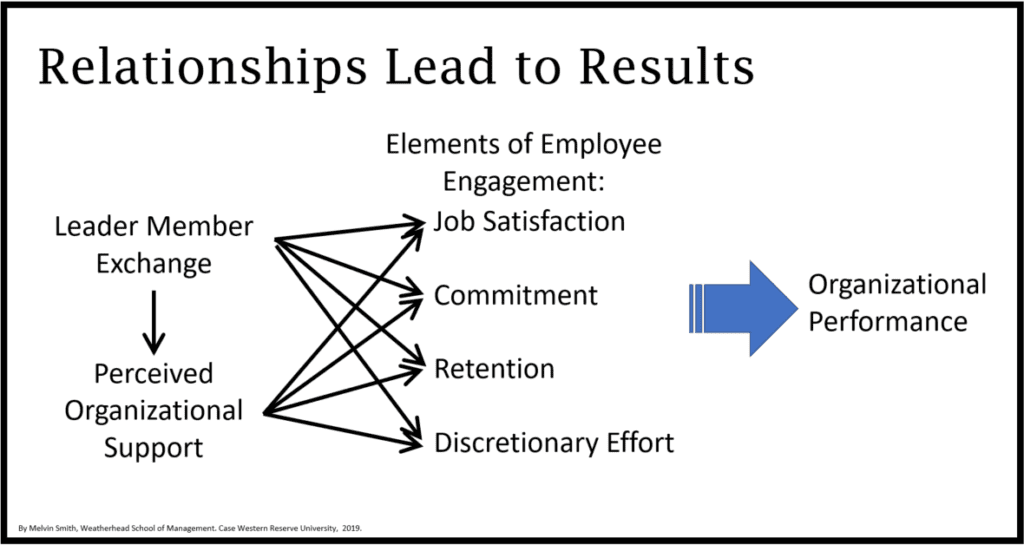 The problem is we spend too much time on the outcome side of the organizational performance equation. And when we do move to the process side, we tend to focus on the work processes. 
The area that gets the least attention, but is a critical process to performance, is employee engagement. The Leader Member Exchange. Relationships.
Build Relationships that Foster Engagement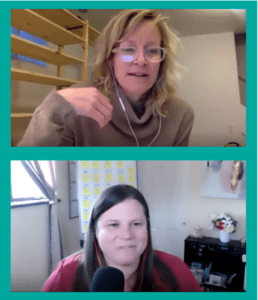 What steps can you take to build relationships that encourage employee engagement? Dorse offers a few recommendations.
First, she recommends having unstructured time with employees. Too often all of our interactions are focused on performance conversations, firefighting, task tracking, or project updates.
Unstructured time could be a cup of coffee in the morning. Or a walk at break. Or as I recommend, a section of every single one-on-one that is dedicated to this unstructured time – whatever the team member wants to talk about. Realistically, it's a combination of those things that add up to provide the unstructured time to have meaningful conversations. These may be about personal things. Or they may be about work topics. But they're not status updates.
Dorsey says to give the time and space and set an intention around what that looks like.
Second, Dorsey recommends to really understand what your current state looks like. She referenced an Harvard Business Review (HBR) study where managers thought they were good coaches. But when they were observed "coaching", the third party coaching experts who observed them typically identified what they were doing as consulting – as giving answers or telling the person what to do.
One challenge is that often there is a disconnect between the relationships we think we have compared to how the team member perceives the relationship. That's why Dorsey recommends a 360 degree process to get that feedback and better understand your current state.
Then apply improvement thinking to define and work toward your desired future state.
How To "Fix Problem Employees"
Dorsey said it simply:
"You cannot fix other people."
While we can influence people and we can create environments where people make different choices, there's very little that we can force. 
Dorsey recommends three initial steps.
Drop the mindset belief that you can fix someone.

Explore your role in creating the situation where a performance gap exists, and take action to improve your own

Mine for gold, giving recognition on specific positive behaviors.
 After these actions, feedback or coaching conversations will be more impactful. 
Hear more in the podcast episode – just hit the play button above.
Take Action:
Complete a gut check on the status of the relationships between you and each member of your team.
What is your intention for those relationships?

How do you want them to be?

How do you think they are now?

How could you learn how your team members perceive the relationships?
Mentions & Features in this Episode:
About Our Guest, Dorsey Sherman: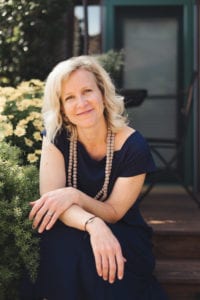 Dorsey Sherman is a leadership and continuous improvement coach with over 15 years of experience in creating positive organizational change. She partners with her clients to identify goals, understand where they are now, engage in possibilities, connect with internal motivation and commit to small experiments that yield learning and progress. Her goal is to help leaders see how much influence they actually have to create both positive change and operational excellence in their organization. She works to debunk their assumptions, negative thought patterns, self-doubt and blame. 
Prior to owning her own coaching business, Dorsey's experience has been in healthcare improvement and operations. She led projects in multiple large healthcare systems that resulted in not only bottom-line results but also increased leadership problem-solving capabilities. She has learned to apply the principles of scientific thinking – facts instead of assumptions, iterative learning, hypothesis and experimentation – to create change on an individual level. 
Connect with Dorsey at LinkedIn or at Modele Consulting