Create More Time for Lean | 025
Lean Leadership for Ops Managers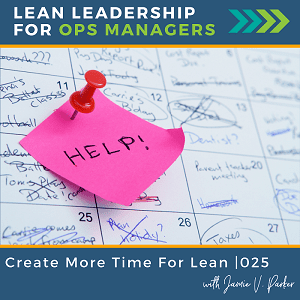 How do you create the time to practice Lean thinking and working in your leadership role when it feels like there's just not enough of it?
What You'll Learn from this Episode:
Why you it might be time for you to make hard choices

Three steps you can take to create more time for to get more of the right things done

When you feel stuck, like there's just not a way out, these three additional steps may bewhat you need
The Leadership Problem: I Don't Have Enough Time
You've been thinking about this question over the last week: How do you spend your time? How do the leaders on your team spend their time?
You KNOW you're not spending enough of your time how it counts. You WANT to get more of the right things done.
But you're screaming inside your head: I just don't have enough time. I'm already working long hours. I'm already behind on my tasks. I already have deliverables that are late. 
If you ever find yourself in that position, then listen to this podcast episode. And you'll probably want to tune in to the next couple of episodes as well.
Three Hard Choices to Consider To Create More Time for the Right Things
When you know that you're not getting enough of the right things done, there are lots of potential steps you can take. Here are three possible actions:
Say No to More

Give Tasks to Someone Else

Use Improvement to Create Bandwidth
I explore why and how for each of these in the episode.
When Things Get Real: Firefighting and the Everyday Burden Prevent Lean Leadership
Sometimes you feel like your back's against the wall. The suggestions provided won't even cut it. Like it's out of control. So what then?
Swap Your Non-Negotiables

Ask to Be Challenged

Work More Hours – Temporarily and Purposefully
Here's the thing – these steps aren't to be done in a vacuum. Be sure to listen to the episode to understand the context and details of these activities. And to hear considerations for talking to your leader.
More in This Podcast Episode
You'll hear more detail and a client story in the episode.
Take Action:
Your next step this week lands on you.
You have to decide. Based on everything you heard today, what is your best next step? 
Make that decision. Tell someone. And then do it.
The main thing to remember is this:
We can't just throw our hands in the air and say "It is what it is".  We're leaders. We don't stick our head in the sand.

We're not going to sit around blaming others. "It's my boss. It's the technology. It's the culture." We're leaders. We choose to own our part and take action.
Tune in next week when I talk about applying Toyota Kata to this problem.
Mentions & Features in this Episode: