Coaching Techniques for Self Leadership | 042
Lean Leadership for Ops Managers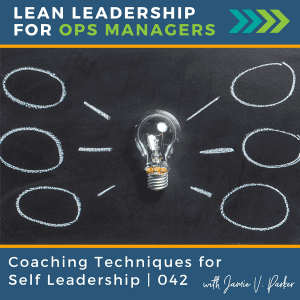 So often leaders want to learn how to "fix other people." To get them to do the work, to get on board, to be better. But true leadership starts with our own self-awareness and self-management.
You are probably keenly aware of your results. But what about your feelings? Or your underlying, automatic thoughts?
Join me as I dig into coaching techniques for self-leadership. Because whether you like it or not, it's hard to manage yourself when you don't really know your inner workings.
What You'll Learn from this Episode:
How life coaching applies to leadership self-awareness and self-management

Lessons I learned from the CTFAR Self Coaching Thought Model

How to facilitate the transformation from both thoughts and behaviors

How to figure out what your underlying thoughts are
Look in the Mirror First
It is paramount to have a better understanding of ourselves. It significantly helps us in solving conflict, disagreement, heated conversations, and all the negative stuff that we tend to avoid. In Episode 41 last week, I shared a model that I learned from the book Crucial Confrontations.
In this episode, I dig a little bit deeper on the topic of self-awareness among leaders. This episode digs into the Self Coaching Model taught by Brooke Castillo of the Life Coach School.
Life Coaching Technique You Can Use as for Self Leadership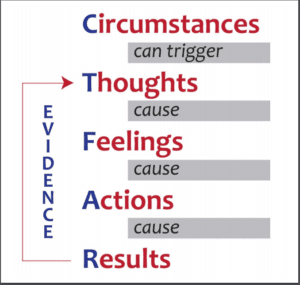 Brooke's Self-Coaching Model is an acronym: CTFAR
Imagine that acronym going down the left-hand side of your page – CTFAR. 
C – First you have C for the circumstance. This is the thing that happened. The circumstance is neutral. It's not good or bad. It's just the fact of what happened. 
T – T is Thought. You have thought about the circumstance. This is where the judgment comes in. 
F – F is Feeling. The thought causes us to have a feeling. It causes and emotion.
A – A is for Action. From that place of emotion, then we take action.
R – R is for Result. The actions we take produce Results.

The model may look familiar. It's similar to the Crucial Confrontations model we talked about in Episode 41. It's similar to the "second cycle" Arnout Orelio talked about in Episode 39. It's similar to the Productive Conflict model I'll talk about in a future episode.
I share this model with you because there are particular learnings relevant for leaders.
Facilitate Transformation with Both Thoughts and Actions
If you've traveled in Lean leadership circles you might have met folks from two different schools of thought:
You have the "Find Your Why" crew. These are the people who put a lot of emphasis on the belief section of this formula. The thoughts. That if your "Why" is great enough, then you will follow through and do it.

Then you have your "Act Your Way Into a New Way of Thinking" crew. These are the folks that say take action then the action will build a habit and get results and prove to you that the action works – even if you're not convinced at the start. 
I'm in the "Both" crew. Beliefs drive behavior. AND. Behavior builds belief. That is why my Transformation Trinity Model includes Beliefs, Behaviors, and Systems. You can learn more about how the Transformation Trinity works in Episode 2 and Episode 3 of the podcast.
If you're an executive and need a framework to evaluate and plan your cultural transformation, you can download my Transformation Trinity Workbook.
In the CTFAR model, you can interrupt the pattern and change the resulting pattern at any point. The challenge is that changing the action can be difficult if you don't also change the thought. So we need to change both. And if we change the thought, it will be easier to change the action.
CTFAR Model Reveals Leadership Behaviors are Driven by Automatic Thoughts
In Episode 41, you heard about me sitting at a restaurant fuming as I made up a big crazy story about why my boyfriend was late. Remember the snow shoveling story?
That story was brewing in my head for 10 minutes. And sometimes stories brew in our heads for days. Or weeks. Or longer.

What the CTFAR thought model helps us understand, though, is that the thoughts that drive our feelings which cause our actions. . .  aren't always big, crazy, conscious stories.
They are also subconscious or automatic thoughts.
Leadership Starts with Self-Awareness
Let's head back to Brooke Castillo's CTFAR Self-Coaching Model:
C – Circumstance
T – Thought
F – Feeling
A – Action
R – Result
Often as leaders, we aren't even aware of the automatic thoughts that are driving us day to day. This autopilot may not seem like a big deal until you realize that your actions are products of your feelings, and those feelings are caused by those thoughts you are unaware of.
Tune in to learn the lessons and the implications of not choosing your thoughts.
Take Action:
Focus on uncovering your automatic thoughts.
Can you figure them out? 
Pay particular attention anytime you want to roll your eyes, sigh heavily, or mutter complaints in your head. 
In those moments, see if you can uncover what your subconscious or automatic thought was in your head.
Mentions & Features in this Episode: