Applying Improvement Kata to the Leadership Problem: "I Don't Have Time" | 026
Lean Leadership for Ops Managers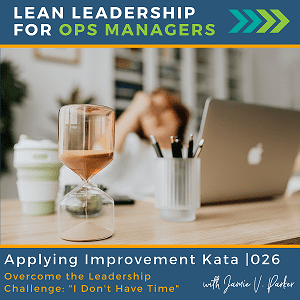 How do you apply Improvement Kata when you have management and leadership problems?
You want to spend time developing people. You want to spend time in proactive improvement. But, you just don't have enough time. There's just too much to do as it is. You just can't get ahead – something always seems to happen.
What You'll Learn from this Episode:
How Improvement Kata, A3, 8-Step Problem Solving and other systems can apply to your work as a leader

The Four Steps and the Four Questions of the Improvement Kata

How Obstacles are Approached Differently in Kata Thinking

Different ways to approach the Leadership Problem: "I don't have time"
The Leadership Problem: I Don't Have Enough Time
We may say that leadership is serving and developing people through human interactions and relationships toward the achievement of goals that support purpose.
We may say that the bulk of a leader's time should be spent on developing people. That's developing their hard skills. Developing their soft skills. And developing their improvement skills.
Another big bucket of a leader's time is around improving work systematically. This is both doing improvement work and putting systems into your own work. And it's also helping and supporting your team as they implement systems into their work.
Here's the thing. Most of the time. Like almost always. When we evaluate how leaders are spending their time, the actual doesn't match the expected.
So what do you do?
The Four Steps of Improvement Kata
Back in Episode 13, I talked about 3 Pitfalls Ops Managers Fall Into with Lean. One of the most common pitfalls is Making It All About THEIR Work. About the work on the floor. The work in our team's process. How we make products and manage inventory.
The key is applying Lean thinking to OUR work. Our work of management and leadership.
So when we face a problem like "I don't have enough time", then it's a great time to put on our problem-solving hat.
You can use any of the problem-solving methodologies. A3. 8-Step Problem Solving. PDCA. 
For the purpose of this conversation, I'm going to use the framework of the Improvement Kata.
The Four Steps of Improvement Kata are:
Set the Direction or Challenge

Grasp the Current Condition

Establish Your Next Target Condition

PDCA Your Way There
Overcoming Obstacles with Toyota Kata
As part of Step 3, Establish Your Next Target Condition, you also list out the obstacles preventing you from achieving your next target condition today. This is one of my favorite parts of using Improvement Kata to problem solve and work toward a future state.
(If you're interested in learning more about Improvement Kata or Coaching Kata, Mike Rother offers his work for free under the creative commons license. Head over to check it out.)
Typically, we look at a problem like this, where all of the dots represent obstacles, problems or wastes.

And I'm sure that's similar to your problem of "I don't have enough time." There are so many possible things you could tackle.
When we ask ourselves what obstacles are preventing us from achieving our next target condition – and then we systematically go after them one after the next . . . then it looks more like this: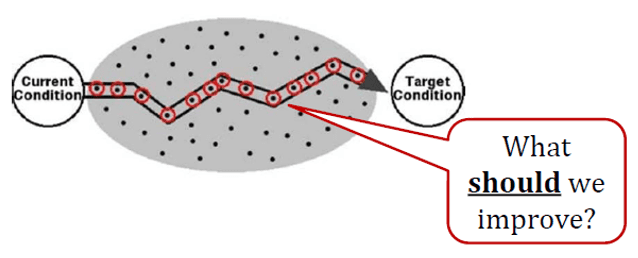 In this case, we're not just picking random possible problems, obstacles, or wastes. We're focused on finding and addressing the obstacles that are in our way. 
It changes the question from:
"What can we improve?" 
to instead:
"What should we improve?"
The Four Questions of Improvement Kata
Okay, so I'm simplifying things a little bit here. The whole routine of Improvement Kata has more to it. The key for our purpose, though, is looking at Step 4 of the routine, where we PDCA Our Way to the Next Target Condition.
From my perspective, in addition to the execution of routines, the next most meaningful part of the Improvement Kata is the thinking behind small, short, iterative improvement cycles and these questions.
They're part of what you think through when you fill out your Improvement Kata Storyboard. And they're part of the broader Coaching Kata routines.
Here, I'm pulling out four specific questions I encourage you to get in the habit of asking, especially when you're applying systematic problem solving to your own work of management and leadership.
Here are the Four Questions of Improvement Kata:
What will I do next?

What do I expect to happen when I do that?

(subtext: and how will I know)
then do the step or run the experiment
What actually happened?

What did I learn?
Tune in to the Podcast Episode at the top of the page to hear more about my perspective on the Improvement Kata and how you can apply it to your work.
And remember, you don't have to use Kata. You could use A3 Thinking or 8-Step Problem Solving methodologies. 
Hear More in the Episode – The Leadership Problem: I Don't Have Enough Time
So how does systematic problem solving relate to the problem of being too reactive. Of not getting enough of the right things done. Of not having enough time for proactive, improvement systems. 
I'll talk through how that might work for you in the episode.
Take Action:
Assess whether this is a problem or challenge that you want to work on improving. 
And if so, take a look at your 2021 calendar and decide: When is the right time for you to prioritize this problem or challenge?
Mentions & Features in this Episode: