Did You Grow Your Capabilities in 2020? | 022
Lean Leadership for Ops Managers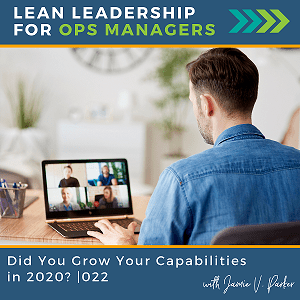 What You'll Learn from this Episode:
My friend Sandi Amorim has been a coach for more than 20 years. She's the author of The 100 Day Promise and the founder of The Created Life Academy, where she helps women 40 and beyond to create and thrive in the areas that are important to them. 
Recently she posed a question online. She asked:
"What can you do today that you were not capable of 12 months ago?"
I loved this question and it made me think of a funny (well, I don't know if it's funny – but I at least got a chuckle out of it) story I encountered regarding Zoom in 2020. 
Listen to the podcast for the story and a little challenge to you. How would you answer Sandi's question? 
For many of us, the end of the year brings a time of reflection. These last few weeks I've spent some time reflecting on my experience with this podcast. One of the fun activities through my reflection experience was exploring all of the different topics I covered and which episodes were downloaded the most. Scroll down to see 2020's Top 6 Episodes of Lean Leadership for Ops Managers.
And if you're ready to set intentions for 2021, be sure to listen to last week's episode with Katie Anderson: Intentional Leadership.
Take Action:
You're ready to grow your lean skills in 2021! Here are your next steps for this week:
Reflect on the question I shared from Sandi: 

What can you do today that you were not capable of 12 months ago?

(And give yourself credit for growing your capabilities!)

I

f any of these six most popular episodes sound relevant for you – figure out when you're going to listen to them – dedicate the time to expand your knowledge.
Please

give me feedback

on what you want to hear about in 2021.

There's a

simple two-question survey

for you to give this feedback, I'd love to know how the podcast and serve you better this year.
Top Episodes of 2020:
Improving Daily Meetings with Stephanie Hill and Meredith Fisher | 015
Many organizations use daily huddles as the core routine that brings the daily management system together. But let's be real – building engaging, effective, daily huddles that serve the greater purpose can be challenging to achieve. In this episode, Stephanie Hill and Meredith Fisher share their learnings and experiences on how to improve daily meetings.
The Problem with Recognition | 005
Every team member wants to be recognized for their contributions. But have you ever stopped to think about how your "Good job, bud!" could actually be negatively affecting the team? Let's talk about the problem with recognition, common mistakes, and a more effective technique.
What is Lean Leadership? | 013
What is Lean Leadership? It's kind of an elusive, not really defined thing. I mean, we use the term and put people through Lean leadership training . . . but what is it. I'll share what Lean means to me and then share my 3-part definition of leadership. These three pieces help me stay grounded and actually drive how I engage leaders in their development.
Your Lean Management Foundation with Ron Pereira | 012
Join me for a special conversation with Ron Pereira, co-founder of Gemba Academy. We both get pumped up as Ron shares his advice for Ops Managers on building your Lean management foundation. You'll learn about four routines that work together systematically to help you change the way you're managing your operations so that you and your team can make work easier, better, and faster.
Don't Succumb to Command & Control | 014
Today we'll dive deeper into The 5 Leadership Interactions that collectively build your relationships with team members. When we create awareness of our interactions, then we can better understand our current state and then purposefully choose how we want to interact with team members.
Ever implemented a Lean system or tool but didn't achieve the adoption, execution, and impact you were expecting? Maybe things were great at the beginning, but over time execution waned and the system wasn't used effectively and consistently? Frustrating, right!
Mentions & Features in this Episode: