Lean Leadership for Ops Managers
Three Holiday Blues Your Team Members Might Face | 017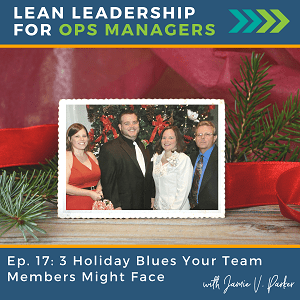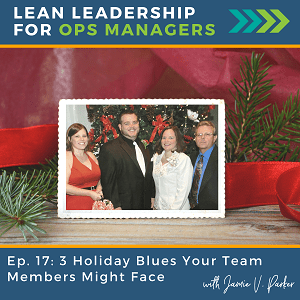 For many of us, the holidays bring out feelings of joy, cheer, love, and celebration. But not for everyone. And not all the time. Team members may also sometimes face the Holiday Blues. 
In this episode, I'll share three specific types of Holiday Blues your team members might face- and that you should be aware of.
You'll hear how the holiday blues manifest and why they may occur in higher frequencies and greater intensity in 2020. You'll explore why you, as a manager, need to be aware of these potential holiday blues. And this episode will help you tune in to your team's needs and lead through relationship and emotional intelligence.
What You'll Learn from this Episode:
The 3 Holiday Blues facing your team members during this season.
What three types of holiday blues are
Why they may occur more frequently or with more intensity in 2020
Why you should be aware of the holiday blues
Take Action:
#1: Pay attention.
If someone seems like they're not themselves through the holidays, check in with them. And all of this is not a time for you to talk. It's a time for you to listen. It's a time for you to share empathy – most of which, by the way, happens in the nonverbal.
#2: Get educated.
Find out what employee assistance program (EAP) benefits or other resources your company might make available to team members. Now might be a good time to remind people what's available (especially since not everyone will feel comfortable talking to you about their needs).
#3: Process the prospect of Holiday Blues.
Spend five minutes processing what you heard. You don't have to do anything. Just process it. And listen to your own cues. Your own intuition. Your own responses in your mind and body. That will guide you on what else you could do.
Mentions & Features in this Episode: