Lean Leadership for Ops Managers
Gratitude – Thinking to Acting | 016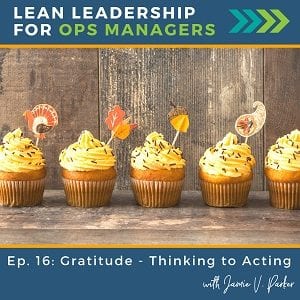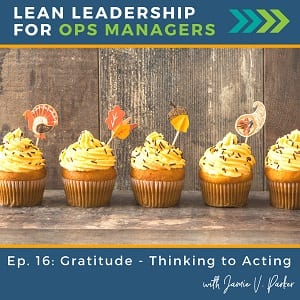 As we focus on gratitude in November, let's take a look at both the mindset as well as gratitude in action.
"Gratitude can transform common days into thanksgiving, turn routine jobs into joy, and change ordinary opportunities into blessings."

 

Gratitude definitely has a role to play in leadership because it can change how you show up.
Today, in the spirit of Thanksgiving, we'll be talking about how incorporating a gratitude practice into your work routine can literally change your brain and improve your team. 
So often, our natural state is to see the problems. To see what's not working. To see the negative stuff that needs to be corrected. 
It's normal because in our management roles, we have a responsibility to right the wrong and to improve.
Bringing gratitude into our daily practice can help us also see and appreciate the positive. Personally, I'm using a Self Journal as a combination journal + planner. I use it for goal setting and for managing top priorities and for reflection on how the day and week went. As part of my daily routine, I start by listing three things I'm grateful for that day. This helps shift my mood to a place of service, appreciation, and abundance.
Your gratitude practice doesn't have to mirror mine. There might be a different practice you want to use. Maybe you put slips of paper in a jar. Or keep a running list on a sheet of paper. Perhaps you verbalize your gratitude in prayer or meditation. Or share your gratitude with family members over a meal.
Today, I also want to talk about how we can shift from gratitude as an internal thought to an external practice. Now of course we can do things like Reinforcing Feedback for Recognition – which you can go back and hear more about in Podcast episodes 5-8.
But I want to take gratitude in action to another level by combining it with kindness.
And that idea is to be a day-maker. To literally do something for someone where they respond or feel internally, "Wow – you just made my day!"
So I started out doing things like: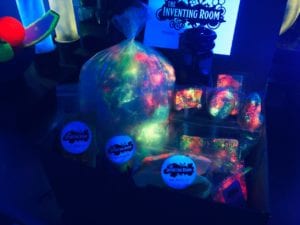 Oh – those glow-in-the-dark candy kits, by the way, were a great hit! They even come with a black light bulb. I've bought them for three different groups of kids, and will probably send more of them out before the year is up. And I love supporting a small local business in the process.
In this episode, I also share a story that helped me realize that being a daymaker doesn't require a grand gesture or spending money. It can also be in the little things, too.
Giving an unsolicited testimonial

Sharing someone else's passion project to your network

Sending a hand-written note

Doing a little extra from the chore list or daily activities
Here's the point: 
You can and should be a day maker, too!
You can make your own day by adopting a gratitude practice. It will change your mood and rewire your brain. Total day maker.
And you can be a day maker for others. 
What You'll Learn from this Episode:
The importance of a gratitude practice and how to be a true Day Maker at no cost. The impact of your words and actions coming from a place of giving thanks can truly change someone else's path (and your path, too!)
Take Action:
Step One: Reflect back on how Gratitude has been a part of your life and practice so far in November. What do you want to keep? What do you want to stop? What do you want to start or do differently?
Step Two: Embrace Gratitude in Action. Be a Day Maker. Every day for the next week, do something specific to make someone's day. And remember, you don't have to spend money to make someone's day!
Mentions & Features in this Episode: