Lean Leadership for Ops Managers
Don't Succumb to Command & Control | 014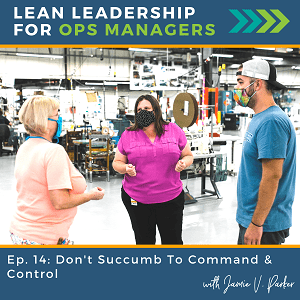 Leadership is to serve and develop people through human interactions and relationships towards the achievement of goals that support purpose. So, if leadership happens through human interactions and relationships, what are those leadership interactions?
There are so many things we do throughout our days. And it's easy to get lost in the hustle and busyness that we sort of get stuck on autopilot. Except for those "serious sit-downs in the office" we tend to go through the motions to try to get things crossed off our to-do list.
When we create awareness of The Five Leadership Interactions, then we can start to see what types of interactions we're having, and to purposefully choose how we want to interact with team members. It also provides a framework for how I teach people leadership skills to management teams.
The Five Leadership Interactions
You know me and those acronyms and mnemonics! Here's my memory tool for the five interactions:
Don't Succumb To Command & Control
Because you all know I'm a recovering command and control manager. And I say recovering, not recovered, because the pull to fall back to command & control is real. If I'm not purposeful in practicing better leadership behaviors, my natural state would be to do more telling and dictating.
I find that to be especially true when the stakes are high. When we're running behind on our production schedule. When we're short-staffed. When our KPIs are in the red. When we have a big customer at-risk. It's during those times that those natural survival authoritarian instincts kick in and threaten to take over.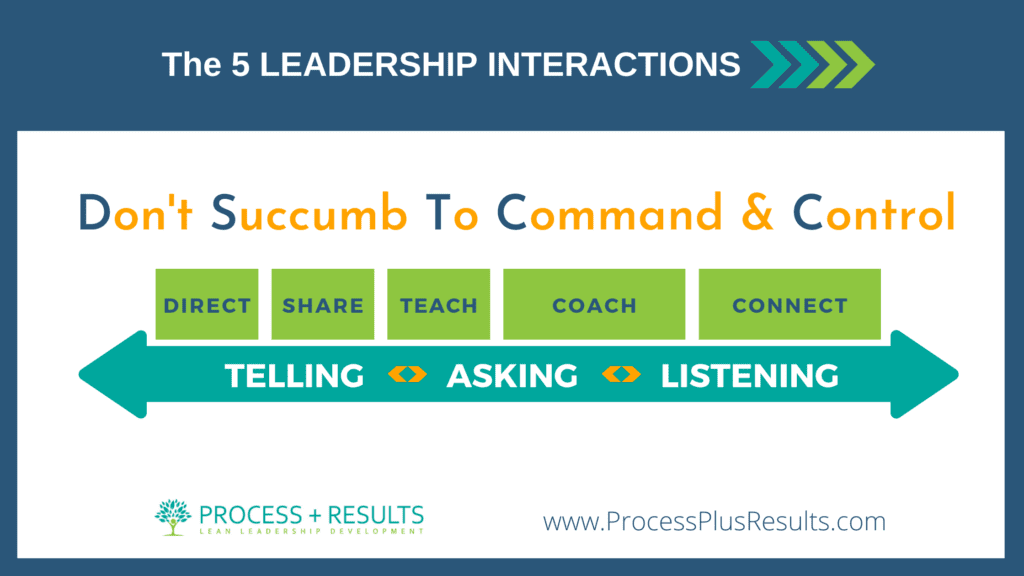 The Five Leadership Interactions Framework: Don't Succumb to Command & Control
Direct. Share. Teach. Coach. Connect.
These five interaction types exist along a continuum from Telling to Asking to Listening.
In the podcast episode, I'll break down each one and share how The 5 Leadership Interactions can be used to frame how you go about developing your leaders.
If you want help developing the people leadership skills of your management team, schedule a call. 
What You'll Learn from this Episode:
What the Five Leadership Interaction types are

Why I say "Don't Succumb to Command and Control"

Examples of each of the five types of leadership interactions

How you can use The Five Leadership Interactions to frame your leadership development
Take Action:
I want you to observe yourself and your interactions for the next week. Make note of how often you are in each of the five interaction types: Direct, Share, Teach, Coach, Connect. 
Which types of interactions do you have the most of? 

What do you notice about the amount of time you spend telling – either in direct, share, or teach? 

How does your current state compare to what you want it to be?
I'd love to hear what you learn!
Mentions & Features in this Episode: