Lean Leadership for Ops Managers
Biggest Pitfalls for Managers | 011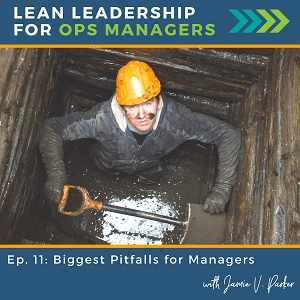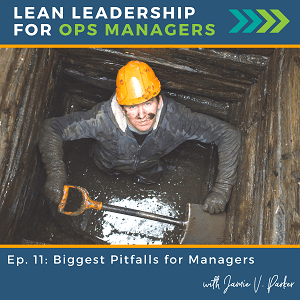 Before we get into the three Lean pitfalls and mistakes I want to share with you today, it's important for you to know that I have fallen into every single one of them. 
Building off of the mistakes in Episode 10, I wanted to share more Lean implementation hazards that might take you off track on your Lean journey – and what steps operations executives, managers, and leads need to do instead.
I hope you're ready to get straight into it, let's go!
Lean Pitfall #1 Top-Down Push
In the episode I shared an example of trying to implement something with my own team. The key here is that we can't dictate all of the how and what to achieve that priority or direction. If we do – we're ignoring Respect for People, we're failing to develop anybody, and we're really just using command-and-control management but calling it something different.
Lean Pitfall #2 Making it About THEIR Work
When we fall into the Making it all About Their Work pitfall, we're also sending some pretty big mixed messages to our team. Because what we're saying they should do is not something that we're fully embracing and practicing in our work. It's the whole "do as I say, not as I do" problem. And, we don't learn as much when we're improving their work as we do when improving our work.
Lean Pitfall #3 Ignoring the "People Side" of Lean Leadership
During my Lean journey, I realized that we – leadership – were actually the biggest obstacle to fully integrating Lean thinking and working into our culture because we still had remnants of old-school management. Because we hadn't figured out how to change the way we made decisions, prioritized, and interacted with team members – in a way that aligned with Lean thinking.
These pitfalls are nothing new, in fact they are a common occurrence. So give yourself a little grace and space. And then make a commitment to get out.
And you may be so far deep into the hole, that you can't get out in one step. That's cool too. But acknowledge it. And figure out the one next step you can take toward correcting it.
Are you ready to develop your leadership team's abilities to spark improvement and generate better execution? Schedule a call with Jamie to discuss the best next step for your leadership team.
What You'll Learn from this Episode:
Three common Lean pitfalls in implementing Lean practices and how they're derailing your journey toward an improvement culture.
Take Action:
Identify which pitfalls you may have fallen into and decide on one next step to help you climb out.
Mentions & Features in this Episode: