Lean Leadership for Ops Managers
Top Mistake Ops Leaders Make with Lean | 010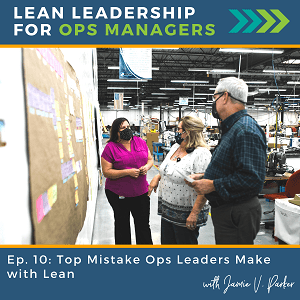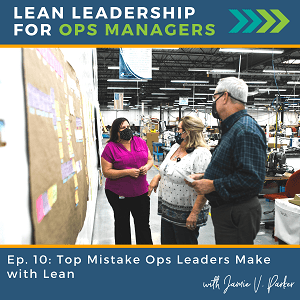 When folks say lean manufacturing doesn't work as well as it "should" we need to examine why that is. And particularly, what's a top mistake that ops leaders make with Lean.
Last week in Episode 9, I shared my thoughts on what I think Lean folks get wrong about ops managers. 
This week, it's time for you ops leaders and I to have a heart to heart on what I think is one of the top mistakes that ops managers make when they decide to use Lean thinking and working in their operation and leadership. If you're just starting your lean journey, you'll be happy you listened to this episode. And if you're already down the path, you'll know how to course correct.
Here it is. Ready for it?
One of the biggest mistakes I see Ops Managers make in their Lean practice is that they outsource it. They outsource Lean thinking, Lean leadership, and continuous improvement to the CI person or the CI lead or the CI department.
They expect someone else to lead improvement in their area. This is a mistake that leads us to think that lean manufacturing doesn't work so well.
Even if you think this doesn't apply to you, be sure to listen in on this episode. You might just get some food for thought.
In this episode I'll explain the importance of taking ownership of your own Lean practice, and review four key areas to look to for improvement.
As ops leaders, we have a significant level of influence with team members. And that carries with it a burden to own and lead improvement.
Are you ready to develop your leadership team's abilities to spark improvement and generate better execution? Schedule a call with Jamie to discuss the best next step for your leadership team.
What You'll Learn from this Episode:
How we can avoid the "Lean manufacturing doesn't work so great" trap by avoiding the top mistake ops leaders make when practicing Lean.

The importance of owning your Lean Leadership practice with your team.

The four key areas you need to examine when assessing your leadership ownership levels.
Take Action:
Your next step is not just to evaluate independently but to begin a conversation with your peers and the other ops leaders, team members, and support partners you work with. Share this episode with them and then start a dialogue.
Mentions & Features in this Episode: