Lean Leadership for Ops Managers
What Lean Folks Get Wrong About Ops Managers | 009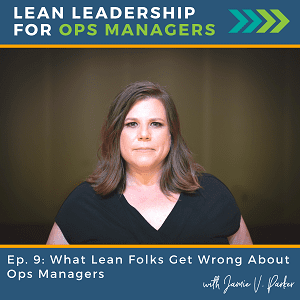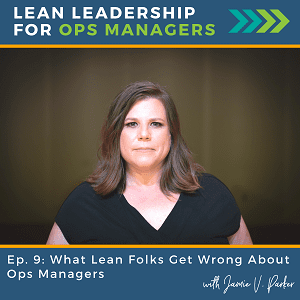 If you're an Ops Manager, you might not know what the Lean world has been saying about you… but I'm here with today's episode to prove them wrong. 
I want to share what I believe is the biggest misconception Lean practitioners hold about Ops Managers, Leaders, and Executives. We'll talk about why I think this common thought is inaccurate, what's actually happening instead, and what it means for all of our next steps.
What I often hear about Ops managers is that they don't care about people or improvement – they just want to hit their numbers. That they want Profits over People. That managers resist Lean.
So many CI folks I've talked with see managers – the ops managers leading departments they partner with – as the obstacle. 
I'll share my experiences with ops leaders and why I see it differently – what is commonly seen as managers resisting Lean may not be that at all. 
We'll explore what may be happening instead and how ops managers and improvement practitioners can better partner together to create more value. Oh – and if you're a Lean practitioner, you'll want to check this out, too. Because I'll share some guidance on how you can take a different approach to engage managers in process improvement.
Are you ready to develop your leadership team's abilities to spark improvement and generate better execution? Schedule a call with Jamie to discuss the best next step for your leadership team.
What You'll Learn from this Episode:
The common misconceptions held by some in the Lean community about Ops Managers and how the difference in working together lies in playing to their strengths and not their perceived resistance to Lean and people-centric leadership.
Take Action:
Try to Figure This Out: What are the biggest pain points for managers in your organization?
Mentions & Features in this Episode: