Lean Leadership for Ops Managers
Ask Jamie – Recognition Questions | 008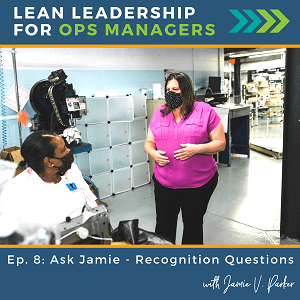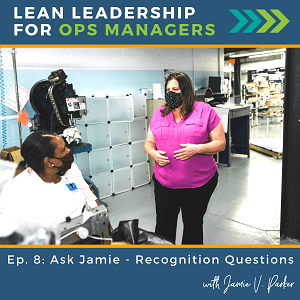 Is recognition always needed? How do I make saying "thank you" to my team less awkward? These are just some of the questions addressed in today's Ask Jamie episode. This recognition unit was going to be a three-part series. That all changed once I received questions from listeners like you about the ins and outs of how to give recognition.
Today, I'll share with you questions and answers on topics like watering-down the recognition, getting stuck on the 4-part formula, integrating reinforcing feedback into other recognition efforts, and what should be recognized.
Did you miss the earlier episodes on the importance of recognition? Head back to Episode 5 to learn more about the how to give recognition – what we're doing wrong now and what we can do better moving forward.
Despite every effort and attempt made up until now, 82% of team members say they aren't recognized enough for their contributions.
For most of us, we have opportunities to improve.
To improve how effectively we recognize contributions so that people feel valued

To improve how effectively we recognize specific helpful behaviors so that we get more of the behaviors that move us toward our goals
For me, Reinforcing Feedback has been the simplest, easiest way to improve in both the people side of leadership and the results side of leadership.
Are you ready to develop your leadership team's abilities to spark improvement and generate better execution? Schedule a call with Jamie to discuss the best next step for your leadership team.
What You'll Learn from this Episode:
Answers to listener questions about this model of recognition and how to integrate it into your team and your daily work habits.
Take Action:
Make a definitive decision on whether you will begin practicing reinforcing feedback. And I mean definitive. It should be a "Hell Yes" or a "Hell No".
If your answer is no, that's fine. It allows you to release this topic from taking up space and energy and you focus on what you are saying yes to.
The main thing is it can't be a "Maybe" or an "I'll try."
If the answer is yes, then it should be a hell yes. It should be a commitment. Go back and re-listen to the episodes, determine your vision of what it could look like, figure out what your current state is, and start practicing and iterating your way toward your vision.
Mentions & Features in this Episode: