Lean Leadership for Ops Managers
The Penny Trick to Recognition Habits | 006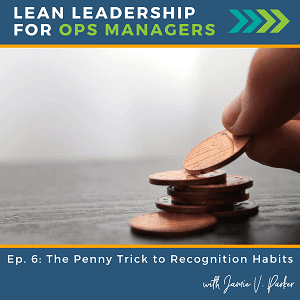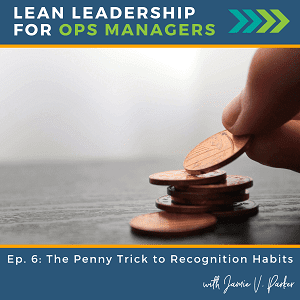 Do you feel like you've tried every trick in the book to remind yourself to show gratitude and appreciation to your team? 
For at least a decade, I was a manager that brought to life the sentiment: "I do 10 things wrong and never hear a word. I do one thing right and never hear the end of it."
I was searching for the trick to recognition – to figure out how I could remember to notice the good things and to share appreciation. How could I build a recognition habit?
In episode 6 we're building upon the Beliefs circle of the Transformation Trinity. If you haven't listened to episode 2, go back and catch up. And be sure to check out episode 5 for the Behaviors and skill side of recognition.
First, I'll share the tricks I tried (and failed) to trigger giving recognition to my team. The list on the door and my daily gratitude practice all sounded good to start but ultimately nothing stuck.
Maybe you're like me and . By getting to the root of what my beliefs were about feedback and recognition I was able to change my behaviors and make recognition a habit. 
As you're practicing reinforcing feedback (or any new skill or behavior change) – pay attention to what comes up. Pay attention to the voices in your head. Go looking for where there might be  misalignment in how you think versus how you want to act.
Getting to the root of your thoughts and beliefs may be just what you need.
What You'll Learn from this Episode:
What I tried to turn my recognition activities around – and what didn't work

The Penny Trick to recognition

One of the primary root causes to my appreciation problem

What High Quality Thoughts are and how they may be the missing trick to building an effective recognition habit
Take Action:
Spend 15 minutes thinking about what beliefs, values and thoughts that are best serving you and your team, and the thoughts that are not serving you or your team.
Mentions & Features in this Episode: