Lean Leadership for Ops Managers
Be Obsessed | 004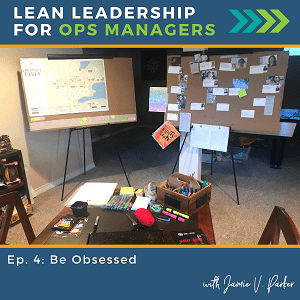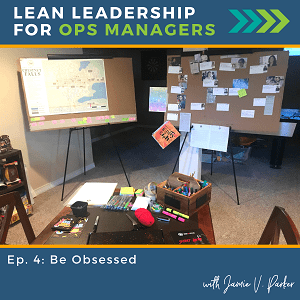 I want you to think about one thing you are absolutely obsessed with. 
It could be anything from a fitness routine to a sports team, but I want you to hone in on your excitement and passion. Obsessions like this fuel us. You can hear it in our voices when we're talking about it. We go to great lengths. We invest – time and energy and money on our obsessions. Now imagine what it would feel like to be obsessed with leadership.
In Episode 4, I share with you my love of mystery solving and together we'll explore how to apply that same curiosity to the Transformation Trinity and your Lean journey. Investing in yourself to become a better leader – to purposefully develop – to try new things – to fall down and get back up – it's hard. And there are going to be times when you feel like giving up. 
That's why it's so important for us to Be Obsessed.
This podcast is designed for leaders in ops management who've had some targeted success with Lean, but haven't yet built the everybody-everywhere-everyday improvement culture they crave. In each episode, I'll bring my experience – good, bad, and ugly- as a Fortune 100 ops executive to the table. I'll teach you how to engage your team, develop a Lean culture, and still get your day job done.
What You'll Learn from this Episode:
That crazy thing I did on my 40th birthday and other fun obsessions

Why obsession energy is important and the relationship it has with your everyday leadership

How you can be obsessed about leadership and Lean
Take Action:
Comment on my LinkedIn posts and tell me what it is (outside of work) that you're obsessed with these days. 

Share what parts of leadership you're obsessed with. 

Start sharing with others in your network – your team, your peers, your leader, what it is about leadership that you're obsessed with. Talk about it. Get excited. Share it. Celebrate when it happens. And use that as fuel for yourself.
Mentions & Features in this Episode: