Lean Leadership for Ops Managers
Why is Lean so Hard | 002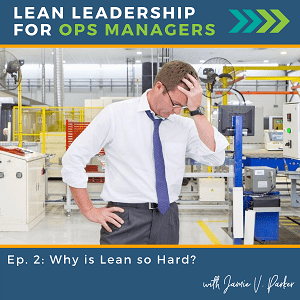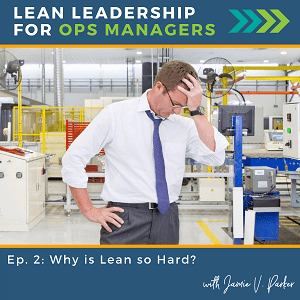 "Why is Lean so hard?" It sounds like a simple question, but when it comes to finding answers things can be overwhelming and complicated. My question to you is: "does what you're doing match what you're saying?"
Let's dive into Episode 2 of Lean Leadership for Ops Managers. Have you ever implemented a Lean system or tool but didn't achieve the adoption, execution, and impact you were expecting? Or maybe things were great at the beginning, but over time execution waned and the system wasn't used effectively and consistently? Frustrating, right!

So how do we make it easier to sustain and improve results? We'll dive into the gaps that make improvement implementation and sustainment difficult. Follow along with the Peloton example to understand the difference between systems and behaviors, and the importance of beliefs in your leadership practice and Lean implementation.
This podcast is designed for leaders in ops management who've had some targeted success with Lean, but haven't yet built the everybody-everywhere-everyday improvement culture they crave. In each episode, I'll bring my experience – good, bad, and ugly- as a Fortune 100 ops executive to the table. I'll teach you how to engage your team, develop a Lean culture, and still get your day job done.
What You'll Learn from this Episode:
A mistake I made early in a Lean transformation, and how it made things more difficult
Why we can't just focus our efforts on improving processes
The role beliefs play in creating powerful behaviors and systems
A model and practice you can follow to identify gaps that make it more difficult to consistently sustain and improve results
Take Action:
Mentions & Features in this Episode: