We're all leading through change right now, and that includes potentially making virtual meeting mistakes. Have you ever had experience or insight into something and not even realized it? It was your normal, so it didn't register for you that it was new for others?
It's April 2020. Hundreds of thousands of professionals are now working from home. Meetings are virtual. Trainings are virtual. Coaching is virtual. Improvement events are virtual.
I started managing remote teams in 2007. The managers and team members on my team didn't all work in the same building. From 2011 to 2018, I led operations teams spread across the country. I had full responsibility for operations that I might only see a few times a year.
I'm so used to interacting virtually, that it never occurred to me that folks are adjusting to it now.
My biggest mistake in a virtual meeting
I was on the road and working virtually. I was working on some digital paperwork when it was time for our team meeting. While we were on, I decided to share my screen to show the team something specific. This whole screen sharing thing was pretty new. All schnazzy, cool, bells and whistles stuff.
After the demonstration, someone asked a question. I thought, "Oh sure – I'll just pull up this other document and show you rather than just verbally answering the question."
It was then.
In that switch.
From the planned demonstration to the on the fly sharing.
That's when it happened.
The digital paperwork I was working on was now on the screen. The screen everyone was looking at.
And it was a termination statement- for someone on the call.  (GASP!!!)
He knew that it was coming as we had been in conversations for months. But it was humiliating for him to have that pop up on the screen for his peers to see.
It was only a few seconds.
I switched as fast as I could.
But the damage was done. Of course I called and apologized profusely. I felt terrible.
I couldn't go back in time to prevent it. All I could do was work to prevent it in the future.
My lesson: Always check your screens and close all unnecessary windows before joining a call where you'll be sharing your screen. Always. Because not everything on your computer is designed for general consumption (and if relevant for you, some platforms allow you to only share a specific application instead of your whole screen).
Learning and adapting to virtual meetings together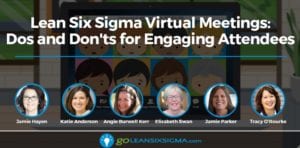 Despite my years of leading remotely, I'm still constantly learning new things. I was honored to contribute to Go Lean Six Sigma's recent article on creating more virtual engagement and picked up some fantastic Dos and Don'ts from other professionals I admire.
In the article, you'll find valuable recommendations from six professionals who have learned and adapted to virtual meetings over the years. Slow your learning curve by
Definitely check it out. The recommendations are top notch!
Getting creative, too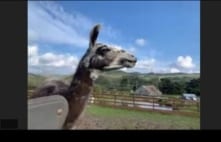 One of the positive things from the pandemic has been the creativity folks are showing.
So if you're looking for new ways to spice up a virtual meeting, consider inviting a farm animal to join in through Goat To Meeting.
What change are you leading through?
P.S.- Join in this Free Training: The 5Cs to Develop a Team of Problem Solvers so you can broaden improvement beyond just managers and practitioners and engage the entire team in creating more value.
Need some help leading through change during the Pandemic? You can grab a spot in the on-demand course: How to Ease the Pain of Change. Or . . . enroll in How to Coach Problem Solving, and you'll get How to Ease the Pain of Change for free as a bonus!
Use code GiveBack50 by May 31, 2020 to save 50% off during the pandemic. Learn more and enroll here.
Take Action: